Board Member Spotlight: Jonathan Marrs, Board Chair
Chamber Chat - Back to Business Blog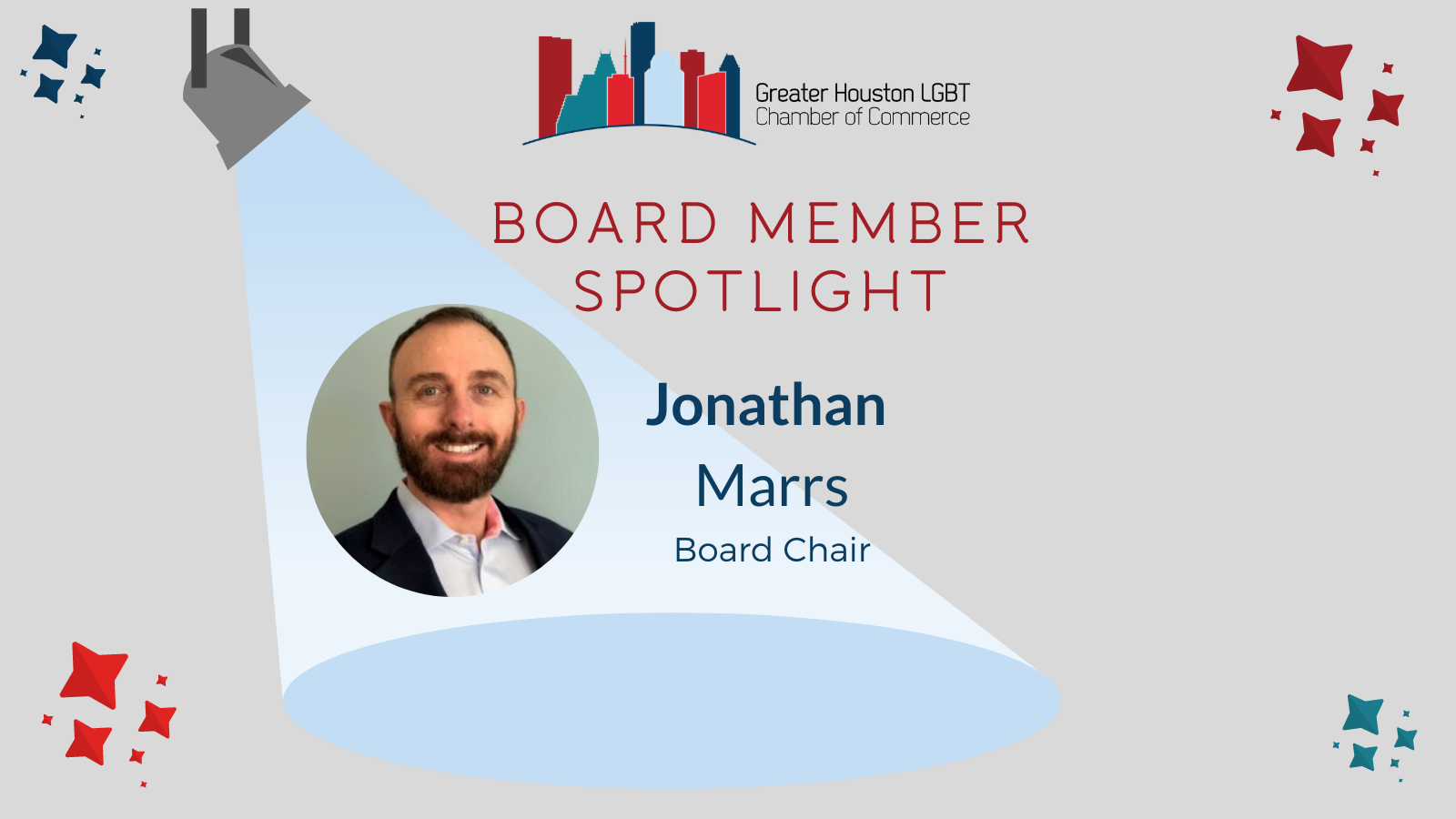 We love highlighting members who give back to the Chamber through their time and talent. Our Board members certainly qualify as they devote countless hours volunteering for the Chamber. The Chamber Board is committed to supporting our members and a thriving organization that helps build a strong LGBTQ & Allied Business Community.
This month, we are highlighting Jonathan Marrs (he/him/his), who serves as the Board Chair for the Greater Houston LGBT Chamber of Commerce as well as part of the Chamber's Founding Leadership Council.
Jon is an "implant" from the UK. He has been involved with the Chamber since year one and he has been an outstanding advocate for the Chamber. Working with Consul General Richard Hyde at the British Consulate-Houston, Jon was a key driver of the formal collaboration that the Chamber and Consulate announced in 2020. Read more about how Jon sees the important work of the Chamber and how the organization can have a significant impact with a collective voice through strategic collaborations and beyond.
As you read about Jon, you'll understand his passion for the work at the Chamber and why he believes the Chamber can thrive in the years ahead. Read on and check out a few fun things about Jon. Can you guess his most listen to track? Hint: he might be losing his religion!
We appreciate Jon and express our gratitude for his tremendous dedication and service to the Chamber!
You have been a dedicated volunteer for the Chamber for many years including helping to get the organization up and running in the early years. Thank you for your service! In fact, we are proud to have you not only as our Board Chair but as a member of the Founding Leadership Council. Why did you originally volunteer for the Chamber and dedicate your time now?
I found the energy and enthusiasm that Tammi and Gary (the founders) radiated to be contagious. I remember thinking how passionate they came across when sharing their vision, and I knew then I wanted to be involved from day one and that it would be the success it is today.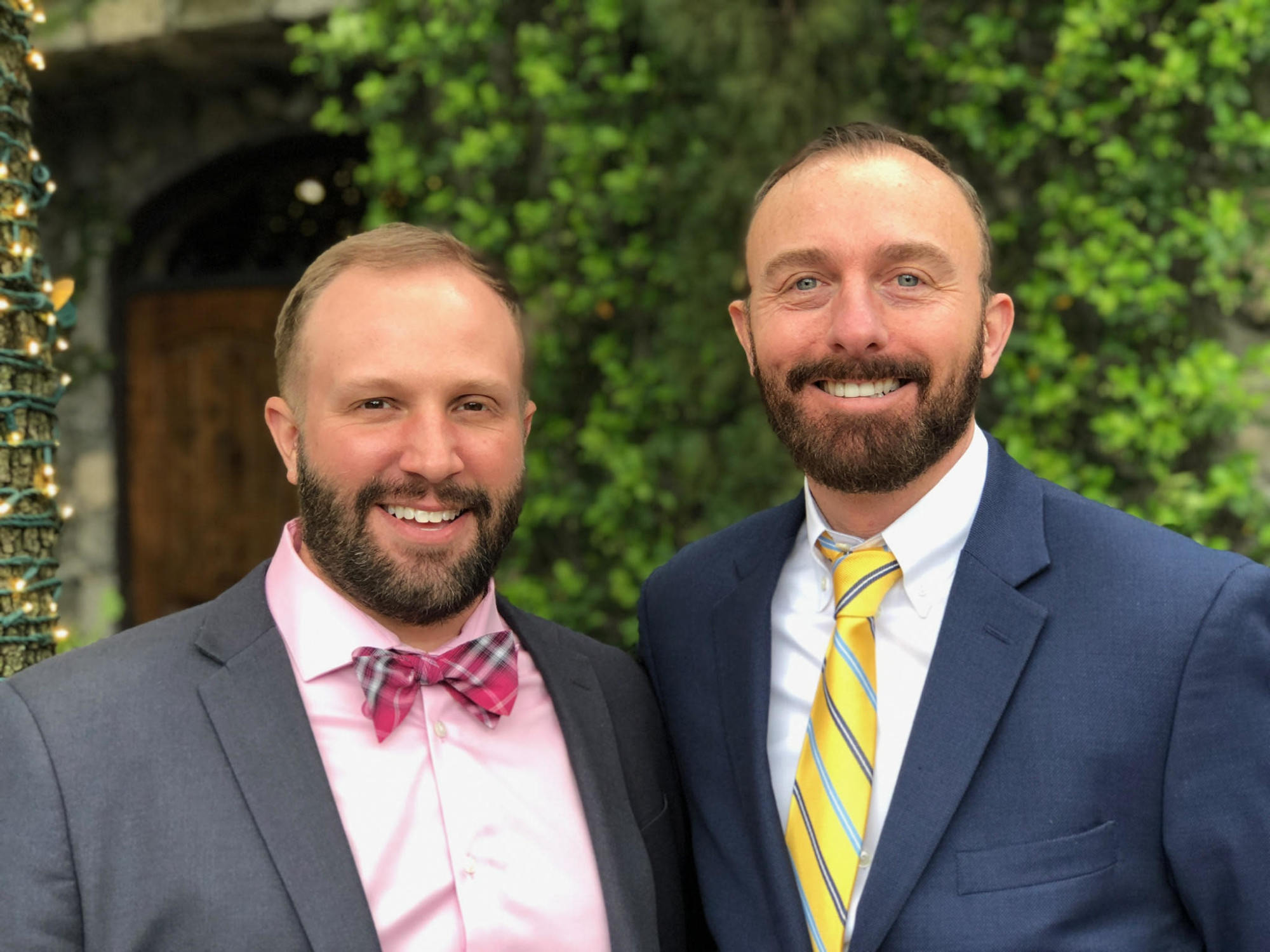 Why do you feel it's important that the Chamber not only exists but thrives?
I think our membership speaks volumes to the importance of the Chamber. We have a family of businesses that support each other. I recall us pulling out all the stops to get the Chamber set up in time to have members represented at the Super Bowl supplier bids. Not only did we pull it off, but we had members win contracts too, which was terrific and highlighted what we could do as a community when we work together.
Where do you see opportunity for the LGBTQ+ Business Community in the next 2-3 years and how do you think the Chamber can play a role?
As an 'implant' from the UK, I'm proud to call Houston my home, and in my day job, I lead a team of officers who promote trade and investment opportunities between the UK and US. I'm looking forward to supporting our members as they grow and look to international markets as part of their growth strategy.
The British Consulate and Department for International Trade work closely with the Chamber and we have exciting plans in place to deepen that relationship, which in turn will provide opportunities for members to expand their networks and provide exposure to key stakeholders within global companies.
What opportunities do you see in the years ahead for the Chamber to have impact around our vision of economic inclusion?
Houston was voted as the most diverse city in North America and that provides a great platform to showcase what we can achieve when you have a clear vision and the right mixture of people working towards the same goals. We all agree that there's strength in numbers and taking this approach and collaborating and forming strategic partnerships with under-served communities will provide a voice that can influence and make change happen.
What advice would you give new members joining the Chamber to maximize their membership?
Get involved! Attend the events virtually and in person when it's safe to do so. We have some of the best social events where people talk about business and have fun!
We are incredibly proud to call the British Consulate one of our members. Can you share more about your role at the British Consulate and why it's important for the Consulate to be a member of the Chamber?
The US and UK have a strong trade relationship worth over $200 billion a year and a total of $1 trillion invested in each other's economies. The relationship plays a pivotal role in Houston's economy and supports thousands of jobs in the region. In 2018, the UK was the 7th largest export market for Houston and was worth $4.1 billion and UK subsidiaries employed over 118,300 Texans.
The team at the British Consulate play a key role in highlighting the opportunities for UK business to invest in the city and support US companies looking at the UK as a destination. Improving equality and reducing discrimination and disadvantage for all by supporting and implementing international equality commitments are key priorities to the UK government. We are proud to be supporting the Chamber in the work they do to address this important issue. The British Consulate wants to be seen as a strategic international partner of the Greater Houston LGBT Chamber and support them in their mission for economic inclusion and equality.
What's the best advice you ever received in business?
Spend time properly researching a market before making your move. We say this all the time to UK companies that look at the US as a destination for their goods or services and we help US companies find the resource to understand the UK market.
Now for some fun…rapid fire! What's your favorite thing to do in HTX when you're not working?
Pre-COVID was play softball, spend time with my husband Kenny and our three miniature schnauzers, travel, and support local business (especially the bars!). Nowadays it's spending time with the fur babies, hiking and camping in the amazing national parks we have across the country.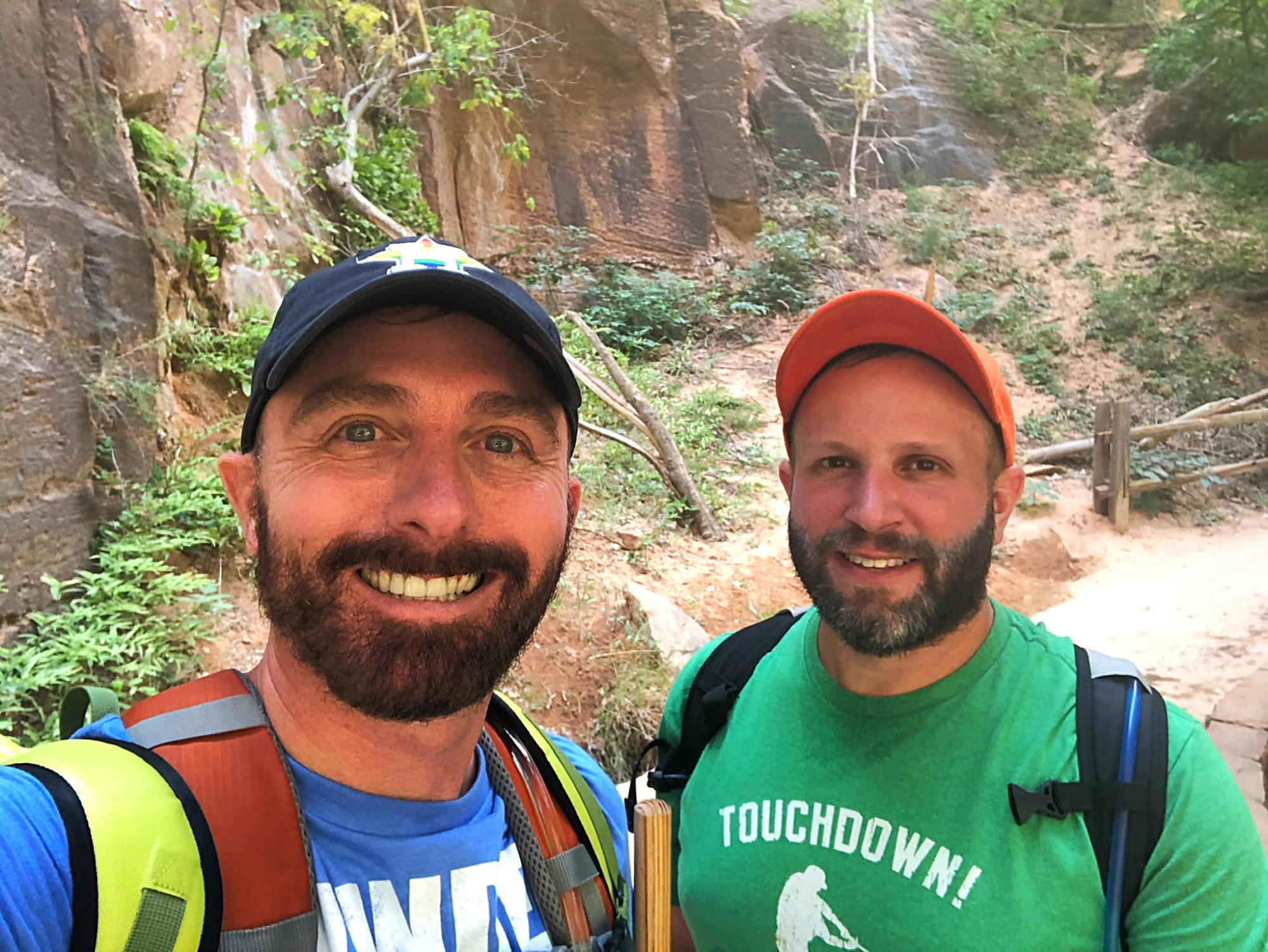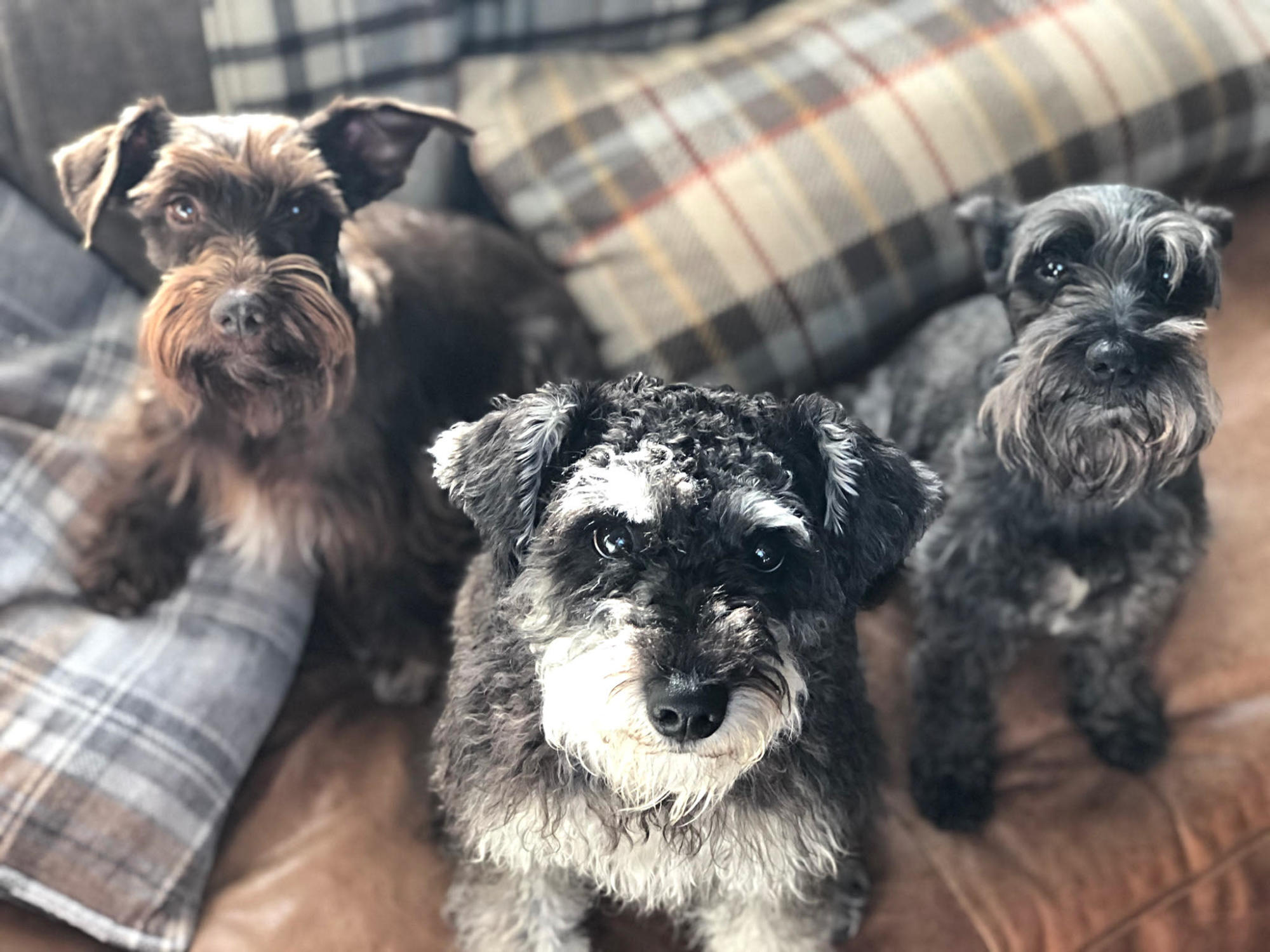 Barbeque or Mexican, and where do you go for it?
Mexican all day long! It's the Margaritas that win that one hands down.
First app checked in the morning?
News
Most-used app?
Probably Facebook but my screen time is going down monthly.
Person you FaceTime most often?
My 88 year old mother in the UK; however, it tends to be her forehead, nose or ear I see more than her face!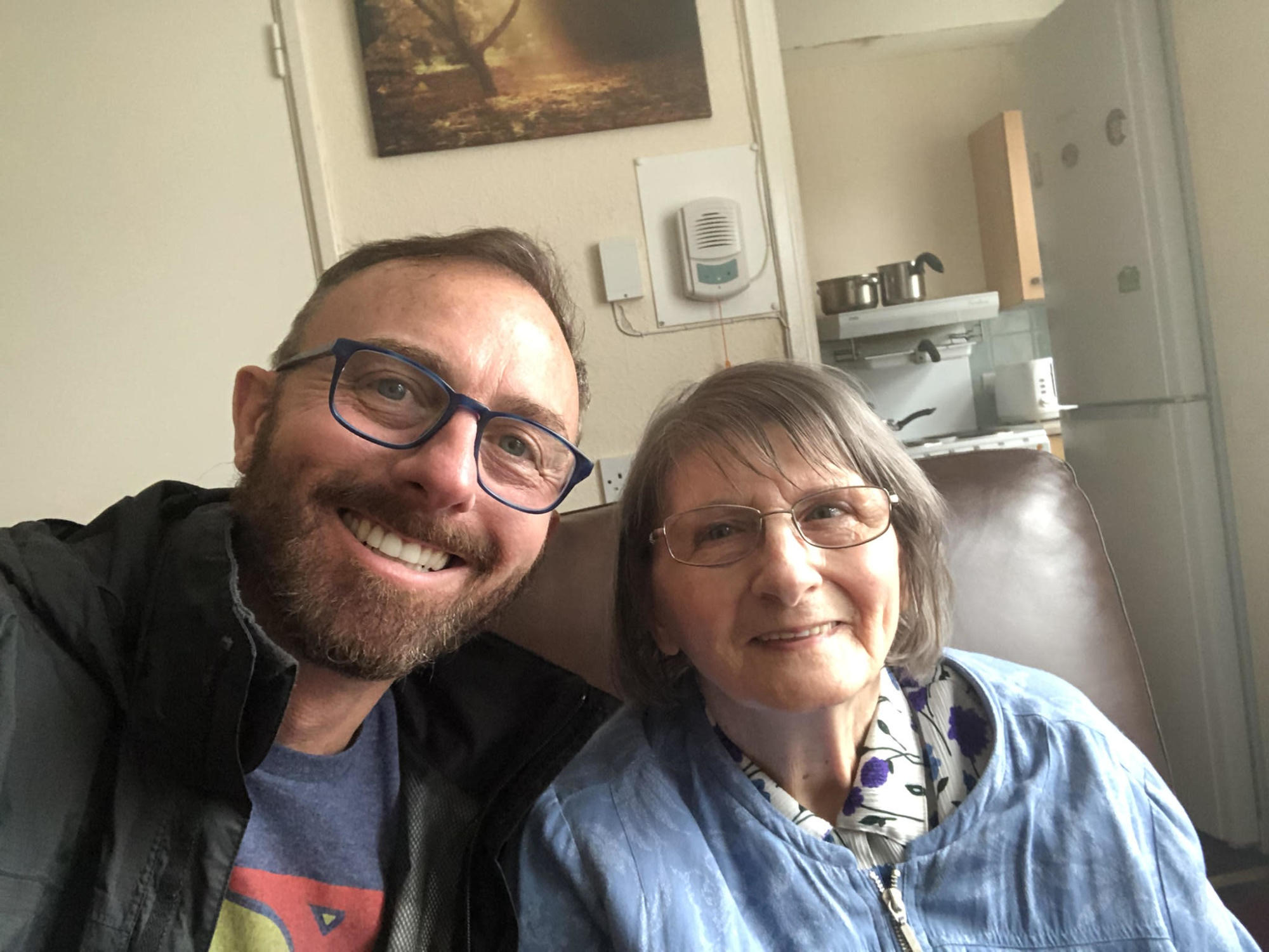 Most listened-to track?
Of all time, probably REM-Losing my religion.
Check out more about the British Consulate-Houston.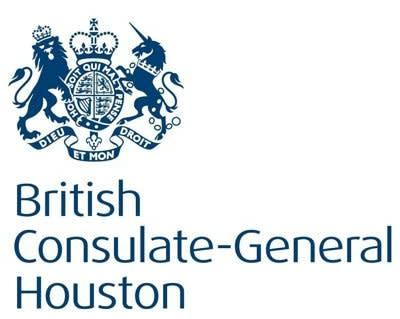 Images