Board Member Spotlight: Shenice Brown, Treasurer
Chamber Chat – Back to Business Blog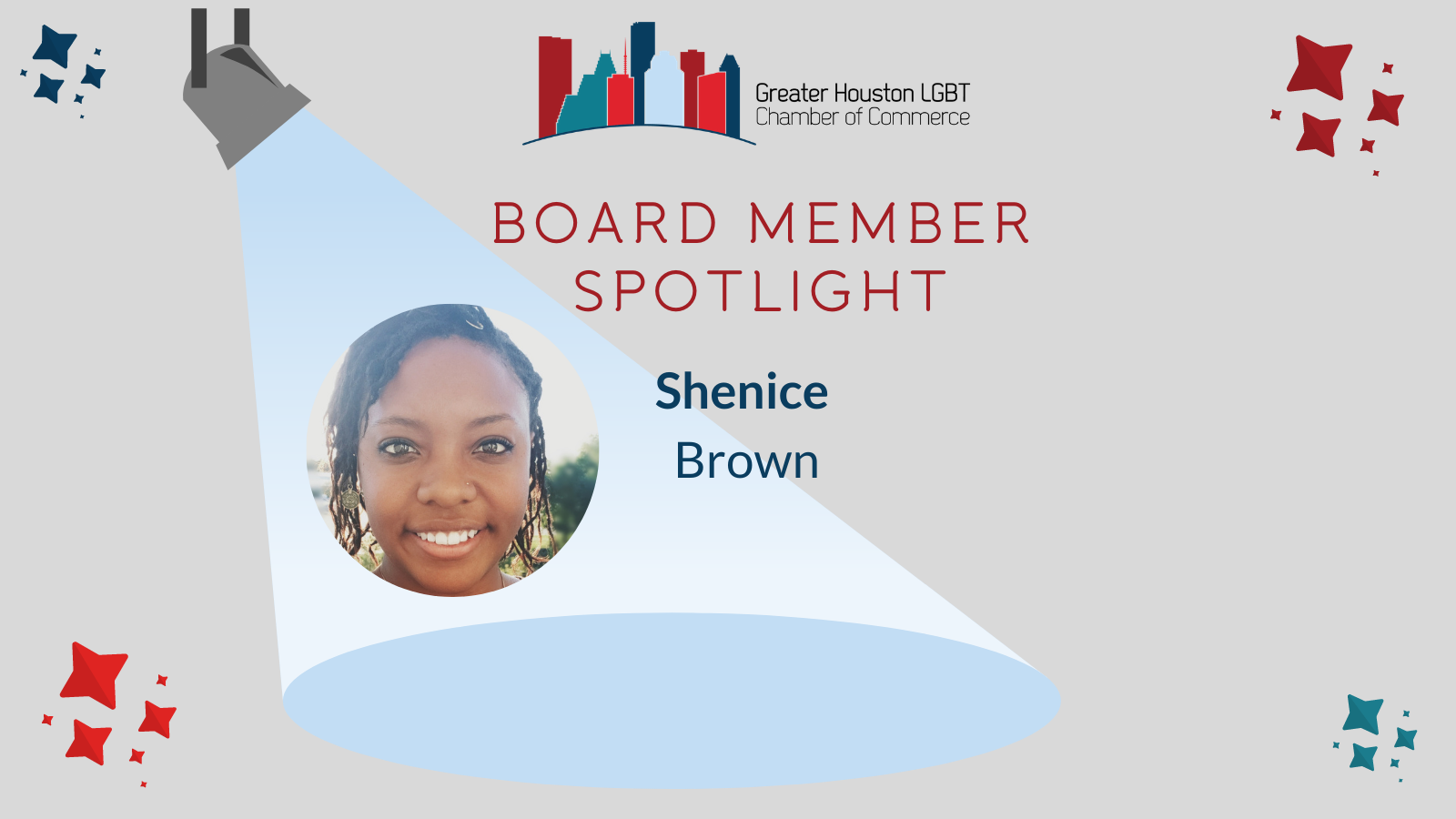 We love highlighting members who give back to the Chamber through their time and talent. Our Board members certainly qualify as they devote countless hours volunteering for the Chamber. The Chamber Board is committed to supporting our members and a thriving organization that helps build a strong LGBTQ & Allied Business Community.
This month, we are highlighting Shenice Brown (she/her/hers), who serves as the Treasurer for the Greater Houston LGBT Chamber of Commerce as well as the Chair of the Membership Committee. Through this interview, you can read more about Shenice, her vision for the important work at the Chamber, her LGBTBE® certified business and a few things fun things!
We appreciate Shenice and express our gratitude for her tremendous dedication and service to the Chamber!
You joined the Chamber Board in early 2020. Thank you for your service! Why did you decide to volunteer for the Chamber?
I decided to volunteer for the Chamber because I love what the Chamber stands for. The Chamber has created a business community of LGBTQ+ individuals while keeping an amazing culture. I wanted to be a part of something that can continue to foster growth and support in our community.
Why do you feel it's important that the Chamber not only exists but thrives?
It's important that the Chamber exists and thrives in order to give our members the much-needed support and visibility. The Chamber thriving will have a reciprocal effect on the members so that their businesses can thrive as well through the growing opportunities to network and build relationships.
Where do you see opportunity for the LGBTQ Business Community in the next 2-3 years and how do you think the Chamber can play a role?
I see LGBTQ Businesses as places that support inclusivity and having all feel welcome. There is definitely a need for this in our city and in our world. The Chamber sets the stage here by already creating that culture. Through leading by example and ongoing education provided to members, this will influence other businesses and corporations to do the same.
What opportunities do you see in the years ahead for the Chamber to have impact around our vision of economic inclusion?
In the years ahead, I see the Chamber impacting the number of businesses with diversity certifications such as the LGBTBE® certification from the NGLCC. I also believe that our corporate partners will continue to do more business with Chamber members.
What advice would you give new members joining the Chamber to maximize their membership?
In order for members to maximize their membership, they need to participate and build relationships through the many networking opportunities available. By leveraging the directory, our member Facebook group, events, and perhaps scheduling your own one-to-one meetings, Chamber members can see their business flourish. Being consistent is definitely a must.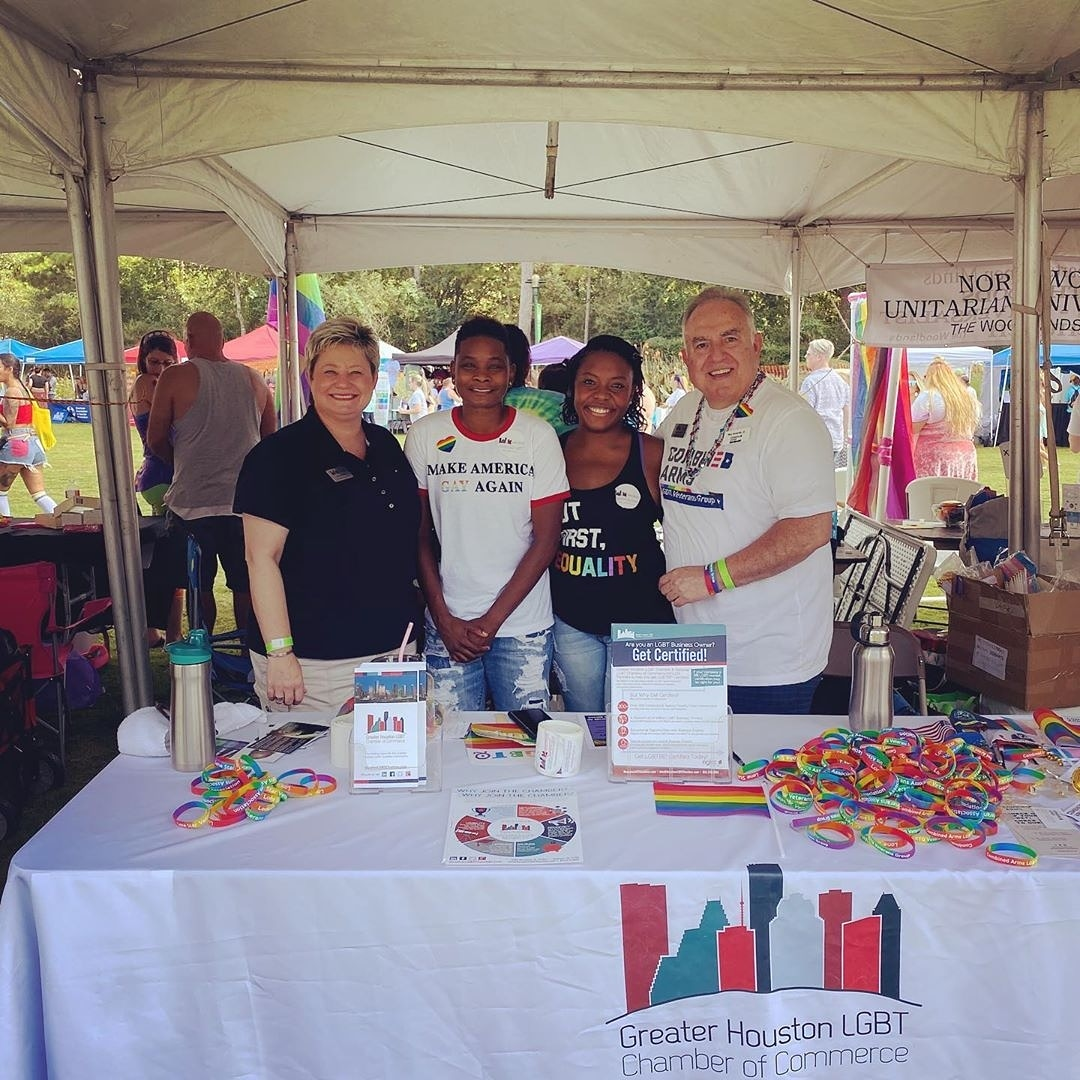 Why do you think it's important that the LGBTQ Business Community have a concentrated voice?
With a concentrated voice, our message can be backed by a succinct community that stands together in unison. This is a stronger voice that would be more likely listened to rather than sporadic voices in lesser numbers. This concentrated voice can help our community have more reach and create change in areas where our businesses need more support.
We are proud to call the Empower Financial one of our members and LGBTBE® certified businesses! Can you share more about your company and how has your company benefited from being part of the Chamber?
At Empower Financial, we specialize in retirement planning, account rollovers, and life insurance. We want you to be set up where your assets, especially income, last you your lifetime and proper protections are put in place for you and your loved ones. Our goal is to empower individuals through financial education and resources that are not taught in school. Through education and providing personalized options, we can find the best solutions for your family's protection and legacy. We want you to live your best life now and later. We work with everyone: whether you are just starting out in adulthood, starting a family, or even in or on your way to retirement years.
We have benefited from being part of the Chamber in so many ways. We became LGBTBE® certified this year, which enables us to build relationships with corporations who are providing contracting opportunities to this community. Our business has so much more visibility, and we have also been able to partner with other Chamber members by referring clients to them. These partnerships are key; we feel that we can trust the businesses we partner with. Without the Chamber, we would not have many of the relationships we have today.
What's the best advice you ever received in business?
Your network is your net worth.
Now for some fun…rapid fire! What's your favorite thing to do in HTX when you're not working?
Eating! And seeking out the best happy hours around.
Barbeque or Mexican, and where do you go for it?
Mexican...or American Mexican - I LOVE Torchy's
First app checked in the morning?
Bible App
Person you FaceTime most often?
My daughter, Rayne
Most listened-to track?
I mostly listen to Soca or R&B/Pop, but the majority of my time listening goes to Podcasts.
Anything else you want to mention about you, Empower Financial or the Chamber?
The Chamber and NGLCC have inspired Shan and I to start the Shen & Shan Show: LGBTQ+ Pride & Business where we highlight entrepreneurs and professionals and their stories. We want to help strengthen the voice of our LGBTQ+ business community. Check out more at www.shenandshanshow.lgbt.
Check out more about Empower Financial at www.empowerfinanciallife.com.
Follow Shenice and Empower Financial:


Images