Board Member Spotlight: Thomas Lopez
Chamber Chat - Back to Business Blog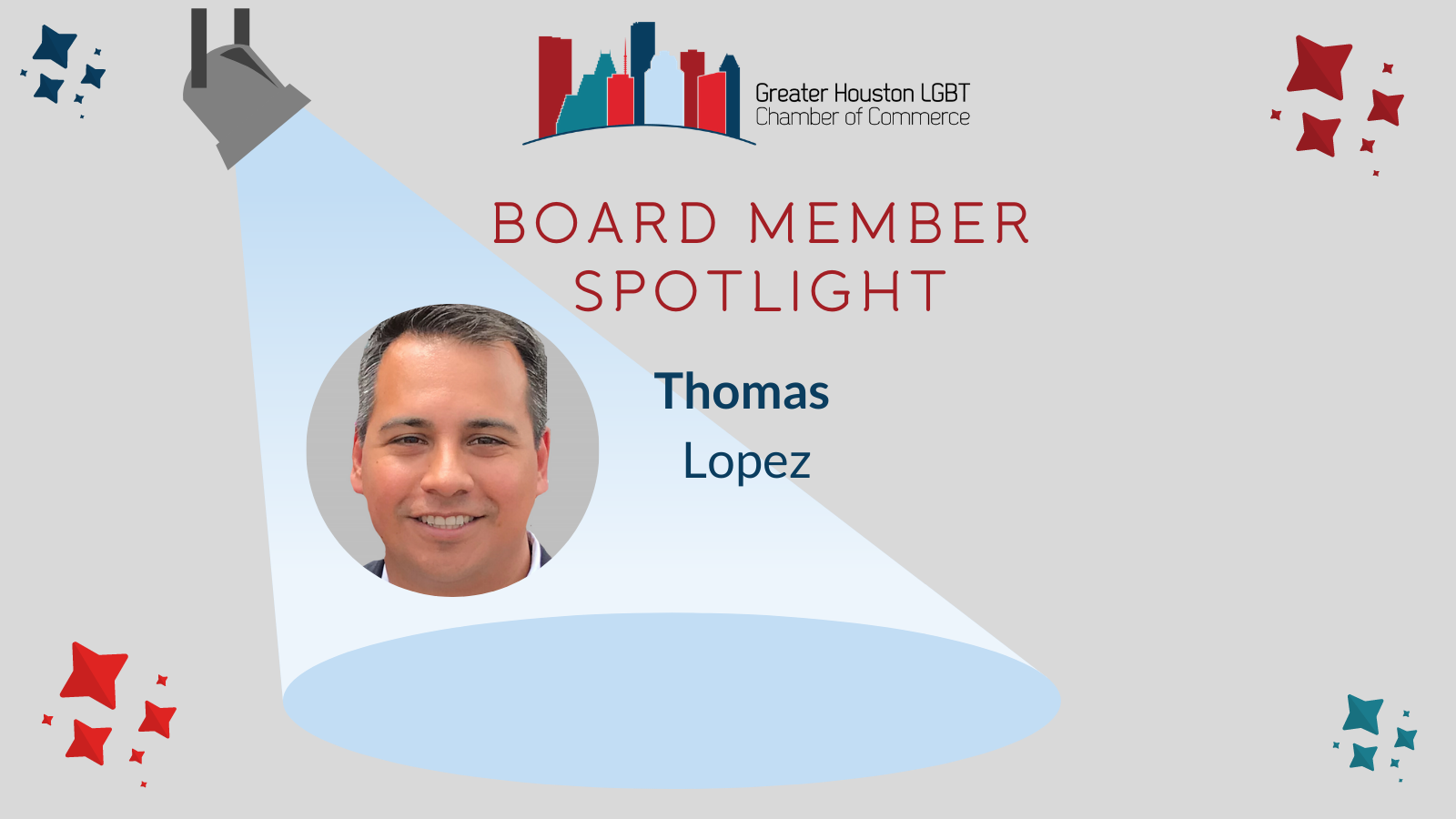 We love highlighting members who give back to the Chamber through their time and talent. Our Board members certainly qualify as they devote countless hours volunteering for the Chamber. The Chamber Board is committed to supporting our members and a thriving organization that helps build a strong LGBTQ & Allied Business Community.
This month, we are highlighting Thomas Lopez (he/him/his), who serves as a board member for the Greater Houston LGBT Chamber of Commerce and co-chairs the Marketing & PR Committee. Thomas is one of our newest board members and he has been an outstanding advocate for the Chamber. Read more to learn how Thomas sees the important work of the Chamber and how the we can have a significant impact with a collective voice.
As you read more about Thomas, you'll see how he uses his talent in many ways to support the LGBTQ+ community including through his podcast, Let's Talk About Gay Stuff. Read on and check out a few fun things fun things about Thomas. Can you guess his most used app? Hint: transportation!
We appreciate Thomas and express our gratitude for his tremendous dedication and service to the Chamber!
So…Tom, Thomas, T.J. or other?
Thomas. I grew up with my family calling me T.J. but in school and at work people call me Thomas. But as the saying goes, "you can call me whatever you want, just as long as you call me."
You joined the Chamber Board in early 2020. Thank you for your service! Why did you decide to volunteer for the Chamber?
Joining the Chamber Board made sense to me as I really connected with the goals of the Chamber in terms of how we want to support, promote, and connect LGBTQ businesses in the Houston area. When the invitation came, it was an easy decision for me.
Why do you feel it's important that the Chamber not only exists but thrives?
The LGBTQ community is diverse, engaged, and we are consumers and business owners. By having the Chamber exist, our community has a foot in the door. When the Chamber thrives, we a seat at the table, we have clout, we can help set the agenda!
A thriving Chamber means we have an opportunity to use our collective voices to ensure we are seen, we are heard, and that we are breaking down barriers. We can access more business opportunities for our community, in terms of being business leaders and consumers.
Where do you see opportunity for the LGBTQ Business Community in the next 2-3 years and how do you think the Chamber can play a role?
The community as a whole is coming out in a more visible way, shining a light on our diversity. We have more couples getting married, more LGBTQ people adopting, more people in our community seeking to do business with organizations that actively and visibly support our community. While we share a great deal of commonality in our community, we are not the same.
Our siblings of color as well as transgender, non-binary, and gender non-confirming siblings, all have different needs, wants, and preferences. As we continue to become more comfortable coming out to live our truth, the business community has an opportunity to support and celebrate this diversity in the years ahead. The Chamber has an opportunity to be that connection point for businesses by providing a platform for the community to collaborate and develop innovative solutions that will help solve the needs of our community.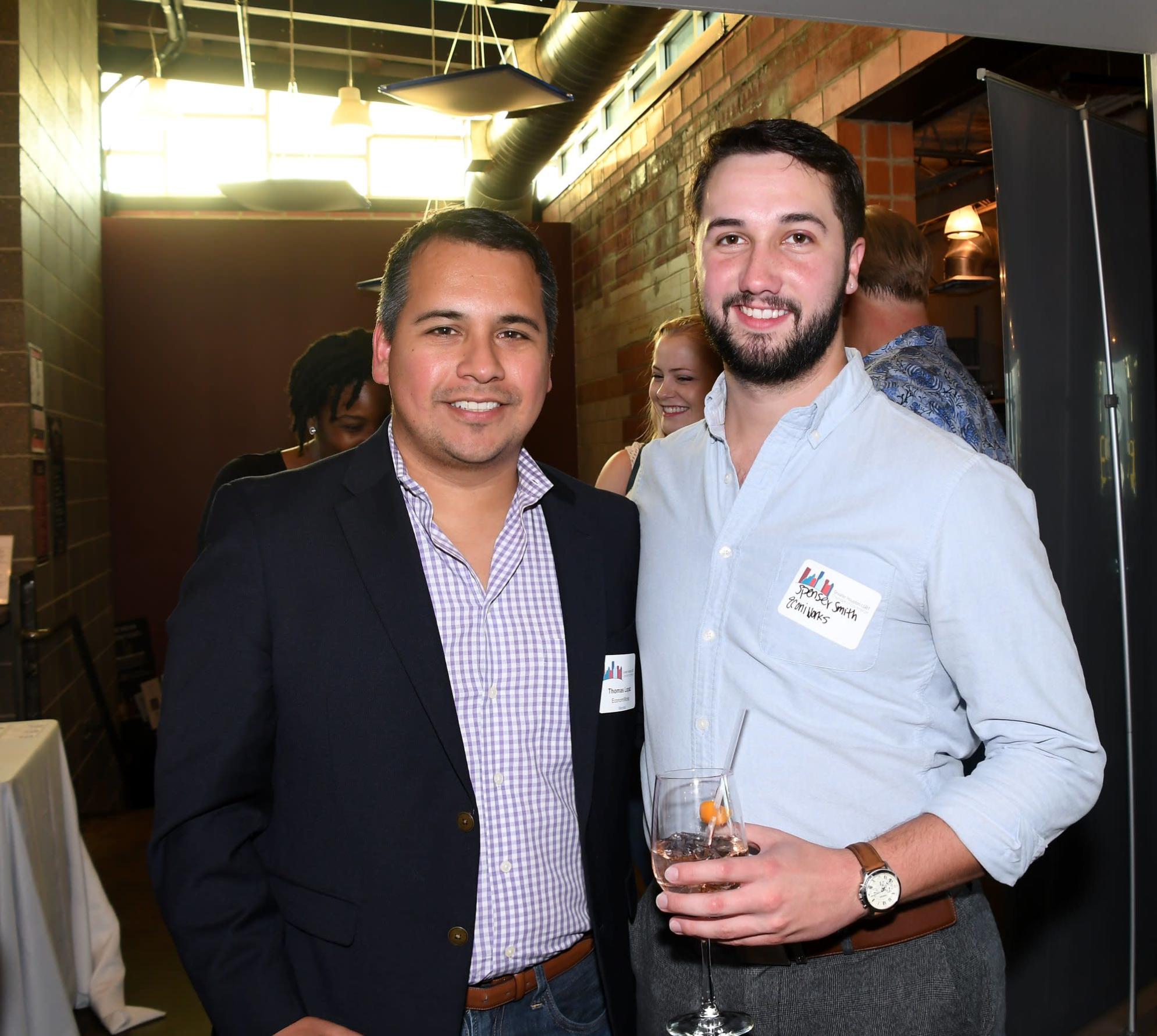 What opportunities do you see in the years ahead for the Chamber to have impact around our vision of economic inclusion?
We'll need to continue the work we are doing in terms of advocacy, allyship, and action. In terms of advocacy, we need to continue to use the channels we have with the NGLCC and Texas LGBTQ Chambers to voice our concerns and needs and turn that into policy which will help our community. Allyship (not sure that's a word?) is important in that we need other voices advocating for us. We can do that by strengthening our corporate partnerships.
Corporate sponsors have the voice, visibility, and support to champion us when others don't want to listen to us or even invite us to the discussion. Lastly, action is important in that we need to continue to act and grow our membership and demonstrate the value of the Chamber to our members. A chamber representing 10,000 voices packs much more punch than one with 10 voices.
What advice would you give new members joining the Chamber to maximize their membership?
Be present – attend events, follow-up with the connections you make. Being a member and participating in the Chamber events is a business development opportunity, whether that is for your next client, next business partner, or next job.
Why do you think it's important that the LGBTQ Business Community have a concentrated voice?
When we come together as one voice, we stand on stronger ground and stand to make more progress. Take the LGBTBE® certification – the Chamber is actively advocating for the City of Houston to recognize this certification. In this, the Chamber is creating opportunities for its members, and by extension, the broader LGBTQ community, by using its powerful voice to gain access to business opportunities presented by the city.
We are proud to call the EconomiWorks one of our members! Can you share more about your company and how has your company benefited from being part of the Chamber?
EconomiWorks connects businesses with freelance talent. Need help doing social media? We have freelancers. Need help building a website? We have freelancers. Need help creating an HR policy manual? We have freelancers! As business leaders, we can't do everything, so EconomiWorks helps leaders connect with freelance talent so they can support organizations in knocking out their to-do list. Through the Chamber, I've been able to make a number of connections with businesses and freelancers.
What's the best advice you ever received in business?
Control the controllables. This advice came from a football coach I had in high school, but it has been a constant mantra, especially, in tough and frustrating times, whether that be in school, athletic training, or business. I can't control what the competition, customers, or suppliers will do, but I can control what I will do.
Now for some fun…rapid fire! What's your favorite thing to do in HTX when you're not working?
When I'm not tending to EconomiWorks business or helping out with the Chamber, then I am working on some passion projects like co-hosting the LGBTQ+ history podcast called "Let's Talk About Gay Stuff." With the podcast and our show's social media accounts, we get to bring to life stories of LGBTQ+ trailblazers and events. That isn't necessarily Houston-y, though, so it would have to be running along Buffalo Bayou – the view of the downtown skyline is tops!
Barbeque or Mexican, and where do you go for it?
Mexican. Because margaritas go best with Mexican.
First app checked in the morning?
Twitter – I get news headlines and entertainment
Most-used app?
Uber – Pre-pandemic of course, you don't have to deal with traffic or parking!
Person you FaceTime most often?
My sister – she has three kiddos and they like to use it
Most listened-to track?
Marry the Night – Lady Gaga
Anything else you want to mention about you, EconomiWorks or the Chamber?
I love connecting people with opportunities and EconomiWorks and the Chamber all me to do just that. I'm grateful for the opportunity to be on the Board and help progress the vision for the Chamber and I'd welcome the opportunity to connect and collaborate with anyone interested.

Check out more about EconomiWorks at economiworks.com.
Images