Board Member Spotlight: Tiffany Tosh, Vice Chair
Chamber Chat - Back to Business Blog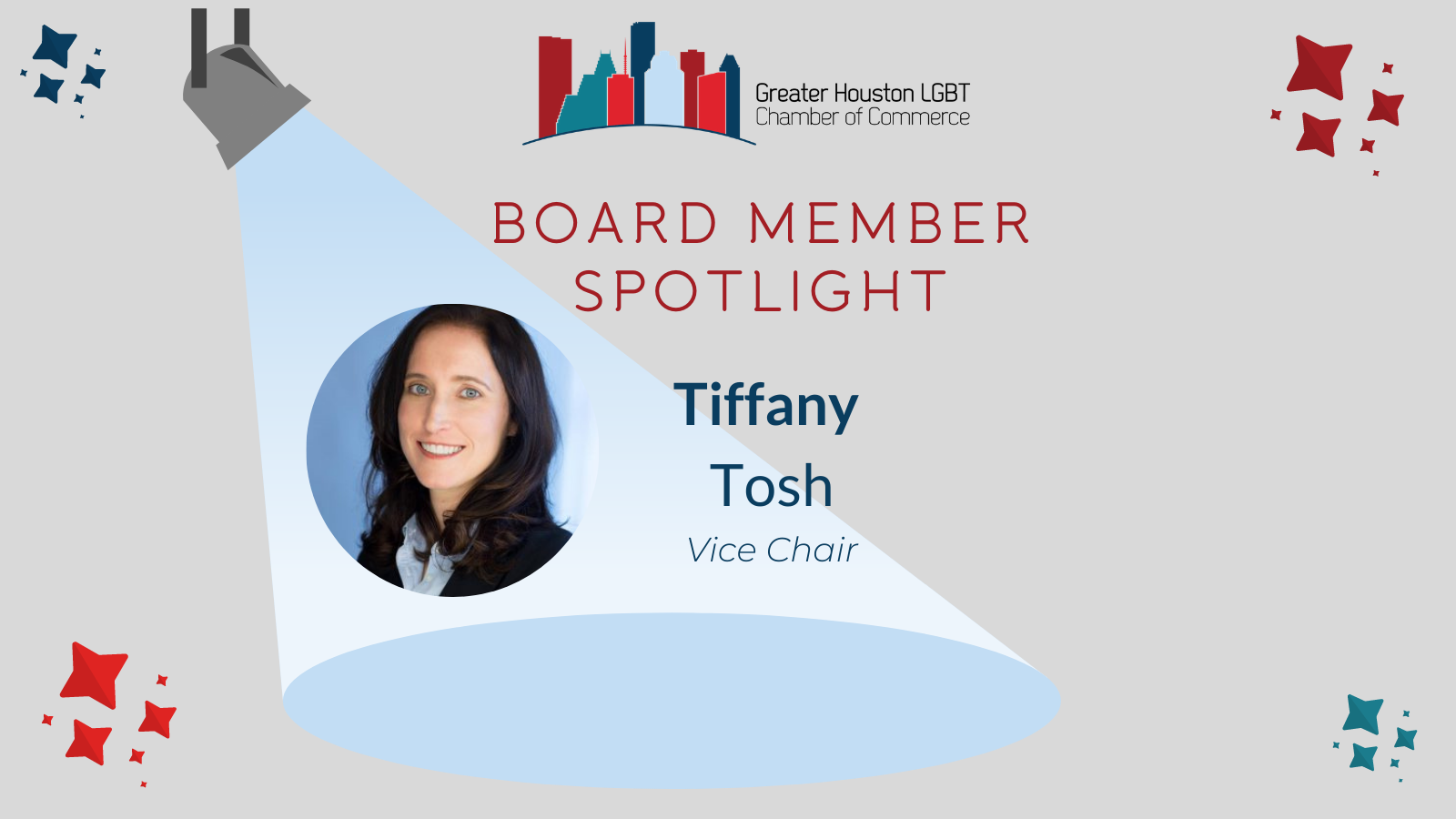 We love highlighting members who give back to the Chamber through their time and talent. Our Board members certainly qualify as they devote countless hours volunteering for the Chamber. The Chamber Board is committed to supporting our members and a thriving organization that helps build a strong LGBTQ & Allied Business Community.
This month, we are highlighting Tiffany Tosh, who serves as the Vice Chair for the Greater Houston LGBT Chamber of Commerce as well as part of the Chamber's Founding Leadership Council.
As one of the people who helped get the Chamber off of the ground in year one and beyond, Tiffany understands the importance of the work of the Chamber and power of the LGBTQ & Allied business community. As you read more about Tiffany, you'll see examples of how the Chamber has been helpful for her as a business owner and why she's dedicated her time, treasure and talent to support the Chamber. We're fortunate to call Tiffany one of our board members! Read on and check out a few fun things fun things about Tiffany.
Oh…and congratulations! Tiffany and her wife, Simone, are expecting their first child in early 2021. Our first "Chamber baby"! We appreciate Tiffany and express our gratitude for her tremendous dedication and service to the Chamber!
You have been a dedicated volunteer for the Chamber for many years including helping to get the organization up and running in the early years. Thank you for your service! In fact, we are proud to have you not only as a member of the Board but as a member of the Founding Leadership Council. Why did you originally volunteer for the Chamber and dedicate your time now?
It sounded like an organization that was long overdue and needed in the community. It also combined three things I loved: the LGBTQ+ community, Houston, and business. Playing a part in building an organization that would aid all three was a no brainer. Being able to turn that love into action with a group of like-minded folks driving towards the same goal of helping the LGBTQ+ business community not only survive but thrive has been extremely rewarding.
Why do you feel it's important that the Chamber not only exists but thrives?
As a lesbian business owner and a Houston native, the Chamber's vision and mission are near and dear to my heart. Anything we can do to accelerate Greater Houston's LGBTQ+ businesses adds to our city's overall economic success. Better inclusion and equality in Houston, and particularly in Texas overall, makes Houston a more attractive place for companies to invest in and, more importantly, for LGBTQ+ people to feel welcome and safe building their lives and businesses here.
What opportunities do you see in the years ahead for the Chamber to have impact around our vision of economic inclusion?
The Chamber alone and as an affiliate organization of the NGLCC and Texas LGBTQ Chambers of Commerce can continue to fight for pro-business, LGBT-inclusive policies at the federal, state, and local levels of government that attract business and a diverse talent pool of workers. The Chamber has an opportunity to help develop and mentor new LGTBQ+ certified businesses that can grow with opportunities through their supplier diversity program. Hopefully, those opportunities will soon include working with the City of Houston and the State of Texas. Equality is good for business, and it's good for Texas.
What advice would you give new members joining the Chamber to maximize their membership?
Reach out to your fellow members and get to know them. One of the wonderful things about the Chamber is its supportive culture. Once people know you and what you do, they'll help you in any way they can. You won't just get work connections out of it; you have the opportunity to develop wonderful friendships too.
Where do you see opportunity for the LGBTQ Business Community in the next 2-3 years and how do you think the Chamber can play a role?
Some of the most successful companies had significant growth spurts or were founded during recessions. Our company started during the 2009 recession. Right now is a prime time for LGBTQ+ businesses to start and grow. The Chamber can help qualified companies become LGBTBE® certified, which gives them access to a platform for connecting with corporate partners and an incubator for entrepreneurial success. The Chamber also provides networking opportunities between members. Many members have grown their business by working with other members, either having them as clients or leveraging other members' services for growth.
Why do you think it's important that the LGBTQ Business Community have a concentrated voice?
We need to support and advocate for diversity and inclusion for ourselves, particularly when discriminatory things like "religious freedom bills" are being introduced. These make Texas overall an unattractive place for businesses that want a diverse workforce. We face a dwindling talent pool due to our under-financed education system and LGTBQ children feeling too unsafe at school to concentrate.
Transgender employees, especially trans women of color, will likely choose to live in a city where they are physically safer. We're the largest city in Texas, but we don't have a city-wide non-discrimination act. It's hard to function as a business if you face discrimination when seeking capital through a business loan or finding it challenging to secure office or manufacturing space because of a bigoted landlord.
We are proud to call the REFUGE Marketing & Consulting one of our members and LGBTBE® certified businesses! Can you share more about your company and how has your company benefitted from being part of the Chamber?
My wife Simone DiSalvo and I run REFUGE Marketing & Consulting, your safe haven for small business. We are a digital marketing firm specializing in helping small to medium size businesses and non-profits grow. For us, being LGBTBE® certified let's people know that we are LGBTQ+ inclusive and that someone outside of our company has made that determination. Since becoming certified, we have brought on several new clients from the community that we are thrilled to be working with every day.
What's the best advice you ever received as an entrepreneur?
Planning your day and picking the "one" real priority you have to do will save you from 'shiny object syndrome'…most of the time. Preplanning is the key to getting things done, even though things will hardly ever go plan. If you plan out your perfect day, week, etc., and only accomplish half of it, that will still be at least twice what you would have accomplished without a plan. And it's easier to change course when you know where you're going.
Now for some fun…rapid fire! What's your favorite thing to do in H-Town when you're not working?
Spending time with my family. My wife, Simone, and I like to explore new (or new to us) places around Houston. There's always some undiscovered spot to check out in Houston. We're expecting our first child in February, and we're excited to take them on plenty of H-Town adventures in the future.
Barbeque or Mexican, and where do you go for it?
Mexican. We like to try new places but typically go to some tasty spots around our neighborhood like Teotihuacan, La Chingada Tacos, and Calle Once.
First app checked in the morning?
Kindle. I try to start my day reading one chapter of a business book before starting work.
Most-used app?
Probably be a toss-up between Asana and Slack.
Person you FaceTime most often?
Our clients, haha!
Most listened-to track?
Indecision by Shura. I've done a terrible job of listening to new music in the past couple of years.
Anything else you want to mention about you, REFUGE Marketing & Consulting or the Chamber?
For myself, my company, and my work in the Chamber, the mission is always the same – to help others. Whether you need guidance in starting and marketing your business or an introduction to our community of LGBTQ+ and allied businesses, I am here to help.
When I left my corporate career to venture into entrepreneurship, there were so many fears. If an organization like our Chamber had existed, it wouldn't have simply quelled those fears, but it would have boosted my confidence and helped me thrive! I hope we can be that resource for the next generation of LGBTQ+ entrepreneurs!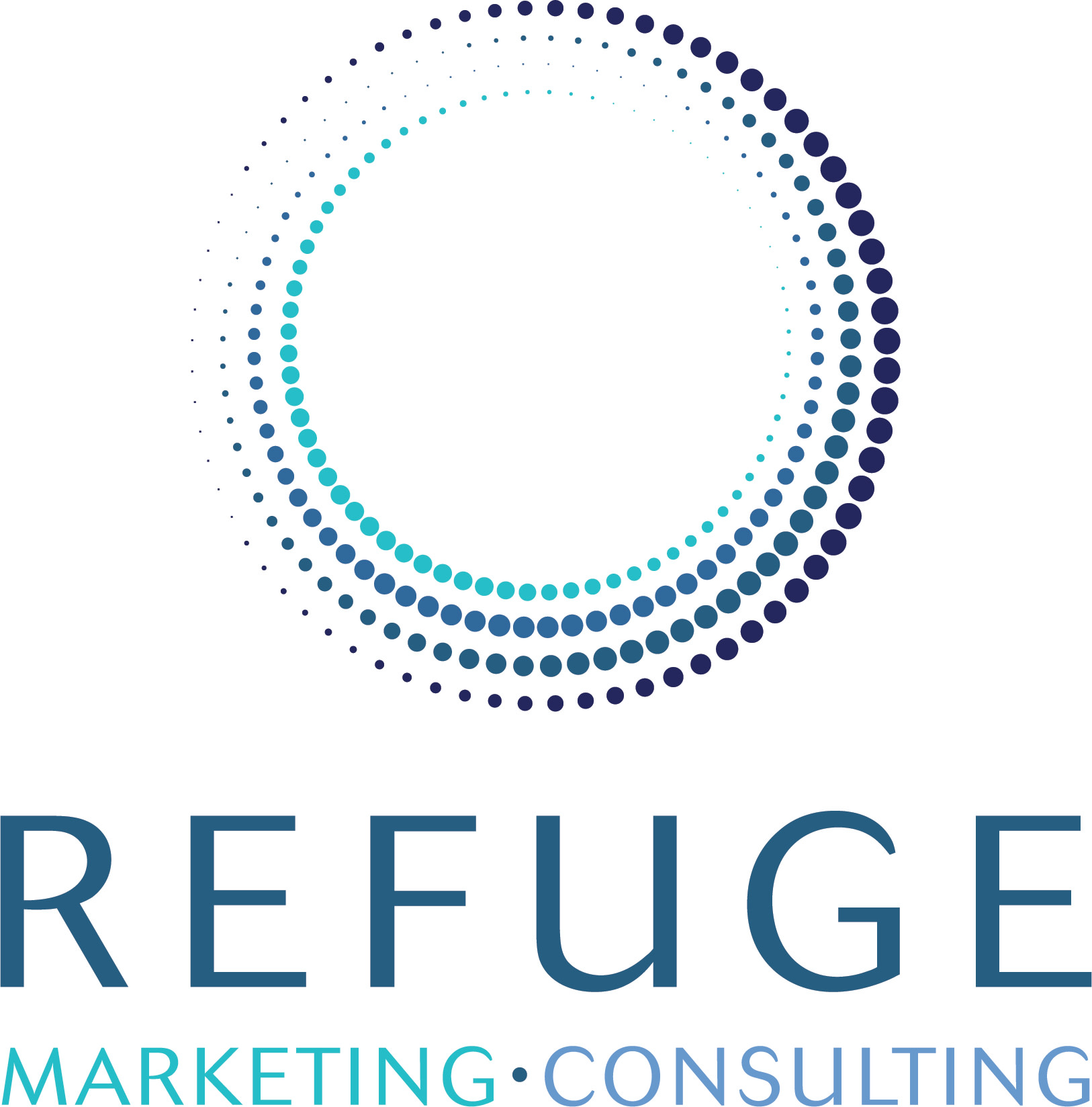 Check out more about REFUGE Marketing & Consulting.