Chamber Chat with Jeffrey Reich-Hale, President and CEO of Jelvin's Candy Shoppe
Chamber Chat – Back to Business Blog
The Chamber is committed to telling the stories of our members. Chamber Chat is a regular series profiling our members. We love sharing great stories and insight from our members!
In this Chamber Chat, learn more from one of our Chamber members, Jeffrey Reich-Hale, who is the President & CEO of Jelvin's Candy Shoppe. Thank you to Jeffrey for his support of the Chamber.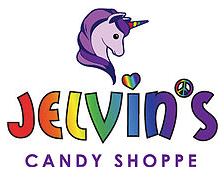 Jelvin's Candy Shoppe motto is Purchase with Purpose. Read more about Jeffrey Reich-Hale's commitment to helping consumers live this motto and give back to two deserving non-profits in Houston doing outstanding work. Read more about where the name Jelvin's originated and why it's important for Jeffrey to give back and how he does this through his business. And, even though neither he nor his husband are BBQ lovers (hello Texas!), we ♥ having them right here in the Lone Star State.
Thank you to Jelvin's Candy Shoppe for sponsoring our September Biz Connect Mixer event!
What is your 30-second "elevator speech" about what Jelvin's Candy Shoppe does?
Jelvin's Candy Shoppe gives you a unique and meaningful solution to gift-giving or just indulging yourself in your favorite candy. Order our candy boxes to delight your friends, family, & clients. Our motto is Purchase with Purpose. 60% of our profits go back to 2 main charities, Barrio Dogs and the AIDS Foundation of Houston. Enjoy some Gummy Bears, Jelly Beans or M&M's all while supporting those in need!
We have to ask….where does the name Jelvin's come from?!?!?
The Jelvin's name came from a combination of my name Jeffrey and my husband's name Kelvin. When we met 18 years ago soon after a friend took the trend of celebrity couples names being combined and assigned us the name Jelvin. We thought this would be the perfect name for our start up. We wanted something different and unique.
Why did you launch Jelvin's Candy Shoppe?
Jelvin's Candy Shoppe is a dream project created by Jeffrey and Kelvin. Jeffrey worked in a candy store in High School and always had a dream of having his own candy store and charity business. The two always wanted to have a business together that brings a positive mission to the world. So, they took those two dreams and combined them into one vision to provide people with a great way to give back while enjoying their beloved sweet treat for themselves as well as great gifts to give to family, friends and clients. At Jelvin's, we believe if people are going to buy candy we should combine that desire with everyone's desire to give back and help those in need.
What sets Jelvin's Candy Shoppe apart from the competition?
There are two things that really set us apart from the competition:
We are not a full for profit company. 60% of our profits are earmarked for charity #purchasewithpurpose
We are hospitality professionals that are bringing next level hospitality industry style service and customer appreciation to the online and in person retail industry
What has been key to your success?
Networking and Social has been our biggest key to our success as far as growing our brand recognition. We know that growing brand awareness is what leads to sales and revenue growth. We like to build relationships and not just be a transactional only organization. Our chamber membership has aided in many of our successes based on the connections we've made.
How can a business work with Jelvin's Candy Shoppe for gifting needs to show appreciation to clients/customers?
We offer business gift solutions for companies with bulk order discounts and custom order opportunities. We also offer companies the opportunity to combine branding by letting them provide us with logo label or business cards that can be placed on or in the box. When their clients see that they purchased from a company that has a strong charity mission it puts that business in a new light. It shows their customers they care about giving back and helping those in need.
We are proud to call Jelvin's Candy Shoppe one of our Chamber members. Why is it important that you are part of the Greater Houston LGBT Chamber?
I could probably do the laundry list of cliché statements as to why the GHLGBT chamber is important to us from the networking opportunities and amazing events and the advantage of getting LGBTBE® certification from the NGLCC, but simply the answer is we are a 100% gay owned and we as a community need to bond together both on a business and personal level to help each other grow our impact in the professional world.
The LGBT Chamber advocates and shows companies that their success is based on a diverse group of human beings that though they produce great revues for you are a marginalized community and they need to recognize and support these individuals basic human rights.
Why do you think it's important that the LGBTQ community have a concentrated voice?
It is important to show companies that their success is based on a diverse group of human beings Even though they produce great revenues for you, they are a marginalized community and companies need to recognize and support these individuals' basic human rights. So, having a concentrated voice of professionals brings into play the old adage of power in numbers.
We love that Jelvin's Candy Shoppe is one of our LGBTBE® certified businesses in the Chamber. Why did you decide to pursue the LGBTBE® certification?
I recognized the value of having the certification as an opportunity to have future business partnerships with larger companies that have vendor diversity initiatives. I think be recognized a LGBTBE® certified business will open up many doors for us as there are lots of companies and individuals that love to support minority owned businesses and entrepreneurs.
You are very active in the Chamber and a number of other chambers in Houston. What advice would you give members to maximize their membership?
My advice to all existing and new chamber members is simple. You are paying for an opportunity to grow your brand awareness which lead to growth in revenue. If all you do is pay for your membership and then are not active you are missing out on so many amazing opportunities to grow your network of connections. So, in other words. Be an engaged member and you will see the fruits of your investment!
In this "new norm" due to the pandemic, what are the top two or three things you've changed to support your customers?
Since we sell loose candy put in boxes normally, we started putting the candy in plastic bags and then put them in the box to bring a comfort level to our customers. I am from the hospitality industry so I've always been trained in safe food handling, but this added packaging process was something I felt was necessary.
We now offer contactless drop off if the customer requests this for our deliveries. (We deliver orders for a fee for anyone who orders within the Beltway 8 loop)
What's ahead in the next couple of years for Jelvin's Candy Shoppe?
The next couple of years for Jelvin's will be about growing brand recognition and sales to become a strong competitor for the well-established gifting options that are available nationwide. We will continue to campaign with our #purchasewithpurpose initiative. We are hoping to have at least one conveniently located brick and mortar location within the next two years.
What's the best advice you ever received as an entrepreneur?
Listen to your customers and clients feedback to help you improve your product and service.
Now for some fun…rapid fire! What's your favorite thing to do in HTX when you're not working?
When not in the middle of a pandemic my husband and I love to just walk through the parks, Downtown and partake in the outdoor eating and drinking activities and visiting the many museums.
Barbeque or Mexican, and where do you go for it?
So, we may be kicked out of Texas for saying this, but we do not like BBQ anything. I know I know we are heathens. LOL. We love Mexican though. We live on the Eastside in an awesome neighborhood called Glenbook Valley and there is this awesome family owned Mexican Restaurant we love call MariaRitas. There are several Mexican Restaurants we love in HTX, but this is probably our favorite.
Native Houstonian or got here as fast as you could and from where?
Got here as fast as we could. We are transplants from NYC. We relocated here almost 4½ years ago.
First app checked in the morning?
Well, I check my emails first, but otherwise it's Instagram.
Most used app?
Facebook, Instagram, LinkedIn
Person you FaceTime most often?
My husband when he's at work or my Mom
Most listened-to track?
Lately it has been Lizzo's song – "Boys" and the other one is "The Sound of Silence" – The version by Disturbed.
I have a wide range of music I like, just depending on my mood, but I use Pandora a lot so the two top stations I have set are my " RuPaul Station" and "Deep House" station.
And lastly this must be said. – We miss Whitney Houston soooo much! May she RIP
Anything else you want to mention about your business?
We really just want everyone to know that our mission is to help those in need and that doing business does not mean you have to be greedy and hoard money. We as a company and as people need to be grateful for what we have and excess is not the key to happiness, but being a good human is the key to happiness.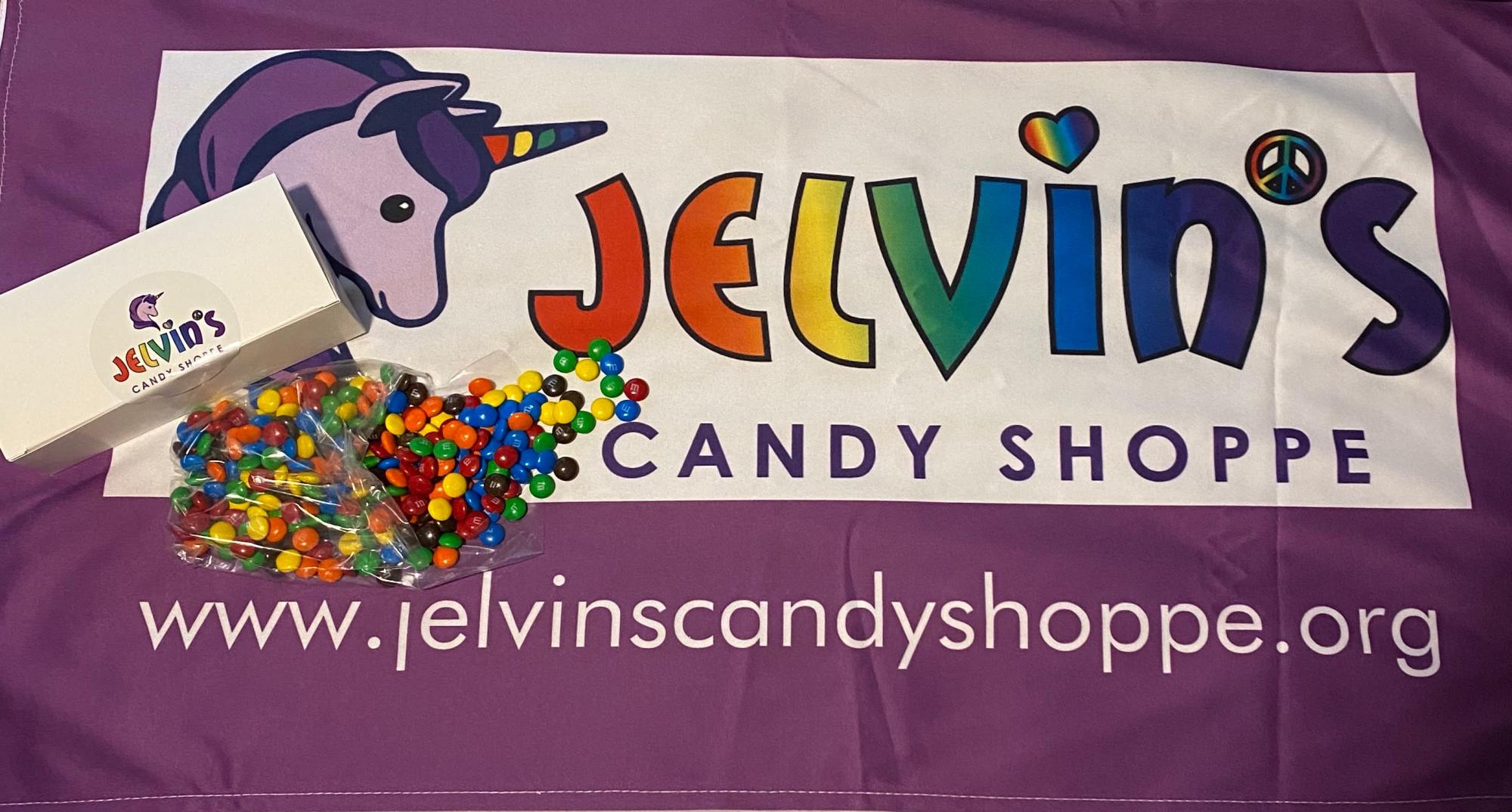 Learn more about Jelvin's Candy Shoppe
Learn more about and place your order with Jelvin's Candy Shoppe at http://www.jelvinscandyshoppe.org/
Connect with Jelvin's Candy Shoppe on social media:

Images