Chamber Chat with Kym Adams (she|her|hers), Solutions Developer with The Business Team
Chamber Chat – Back to Business Blog
The Chamber is committed to telling the stories of our members. Chamber Chat is a regular series profiling our members. We love sharing great stories and insight from our members!
In this Chamber Chat, learn more from one of our Chamber members, Kym Adams, who is the Solutions Development with The Business Team. The Business Team is one of the Chamber's LGBTBE®Certified businesses! Thank you to Kym for her support of the Chamber.

The Business Team is focused on services to give companies support in the areas of Admin, IT, Procurement and Quality/Safety Training. Kym and her team have big plans over the next few years to expand the business in Texas and New Orleans. Speaking of NOLA, read more in this Chamber Chat about what brought Kym to Houston and why she feels it's important for the LGBTQ+ business community to have a strong voice.
Plus, get some great advice from her on why you should join the Chamber and how to maximize your membership and learn more fun stuff about Kym.
We are proud to call The Business Team one of our Chamber Members!

What is your 30-second "elevator speech" about what The Business Team does?
The Business Team, llc is a Houston-born company combining the convenience of Virtual Assistant operations and support with the personal interface of an in-house staff. Our specialties include support services in the areas of Admin, IT/HelpDesk, Procurement, Quality/Safety and Training, which we provide to small companies, firms, project teams and traveling executives in and around our multi-city operating hubs. Additionally, we provide Mediation and Mobile Notary services upon request.
Our mobility allows us to work from our location or meet clients at their locations if needed. Clients are reassured their responsibilities will be expertly handled, allowing better flexibility in time management, and prioritizing without the distractions that business brings.
Can you share a bit more detail about your primary services?
Our support services platform was created for two purposes; to support small businesses and firms with the assistance crucial to every successful company and project. We provide a full array of support services in a fragmented platform allowing clients to access only what they need when it's needed.
Our second focus is to provide support to business executives and companies who engage heavily in business on the road. As more companies move away from the "Brick and Mortar" establishments, many are working in a virtual environment without the personnel presence required for exceptional client and business relationships to be garnered. The Business Team is available to provide an in-person business presence and professional support to clients and associates when needed.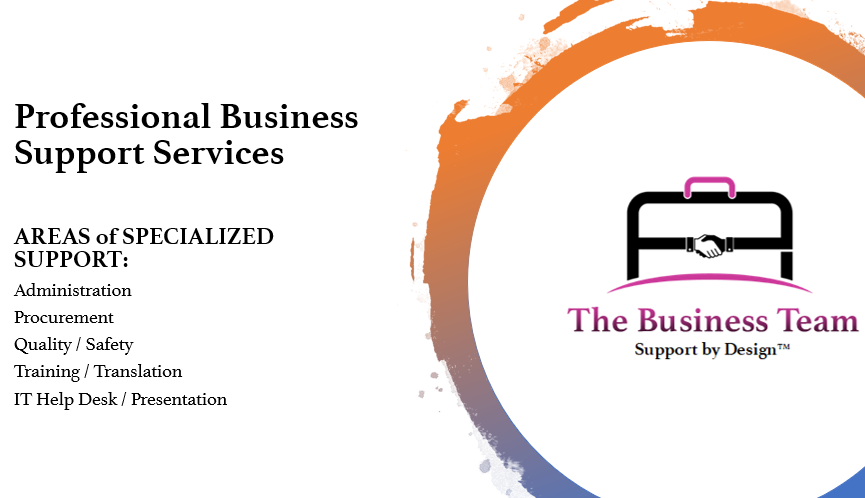 Who is your ideal client?
The ideal client of The Business Team is any business needing support services who does not currently have staff handling these areas. In addition to providing these services, we assist in the development of procedures and protocol to expand capabilities using their current team and programs, and/or help facilitate the hiring and acquisition process.
What is the one thing you want Chamber members to know about your business?
The Business Team can provide a support infrastructure for project and business success that is often overlooked in the small business community. Our Specialists all have at minimum 25 years of experience to drill down and provide root cause analysis and solutions to most problems.
We are not a staffing agency but can provide critical balance and support throughout the lifecycle of your project or business.
Why did you start your business?
We initially began a variance of this business (offering only Admin Support) in New Orleans for contractors, conventioneers, and movie production companies. An induction into the Engineer world proved our support was industry agnostic and allowed us to expand capabilities and service, to become a full-service provider as we redeveloped in Houston into The Business Team brand and service provider we have become today.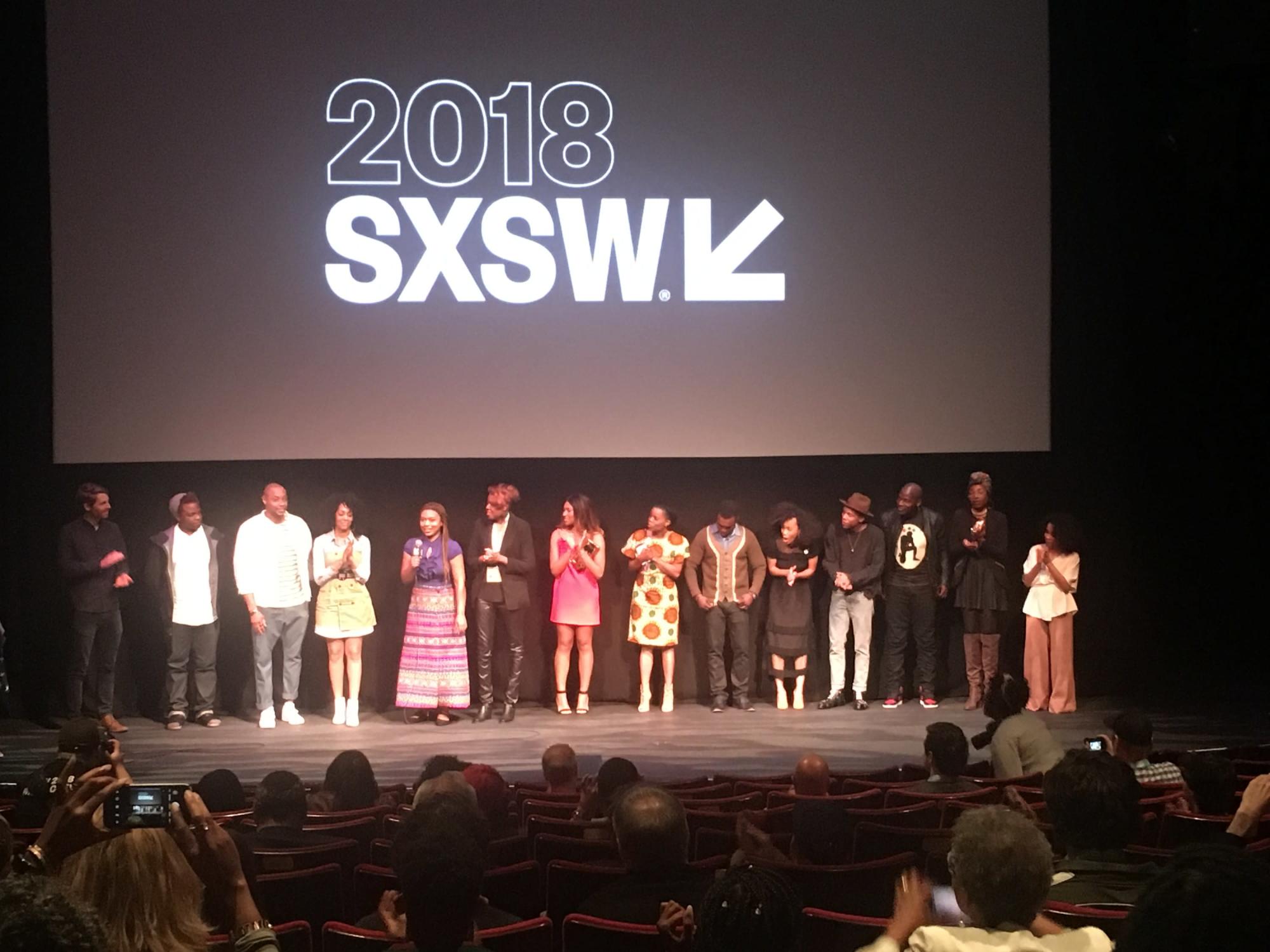 What sets The Business Team apart from the competition?
Our mobility and versatility have been a huge benefit to our clients in alleviating the requirements of hiring a full staff. Our vast experience has been an essential resource in creating successful pathways and strategies for our clients, and associates. The increased knowledge base we've afforded small teams and solopreneurs, in addition to the expansive collective of resources has saved them financially and made operations more efficient than before we arrive on the scene. Our ongoing connection and relationship, whether we are directly engaged or not, creates a security that having employee longevity establishes, in a newer virtual business environment.
What has been key to your success?
The Business Team is honest in assessing the issues and moving directly into creating solution strategies with minimal downtime for a learning curve, which has made us a very sought-after commodity.
We are proud to call The Business Team one of our Chamber members. Why is it important that you are part of the Greater Houston LGBT Chamber and why do you think it's important that the LGBTQ community have a concentrated voice?
At The Business Team, we strongly believe representation matters, in the corporate world, in successful entrepreneurship, in the stories that are told about thriving communities, and for a long time that wasn't the case. The LGBT Community was dismissed, and many achievements stripped simply because of orientation or connection to that community. We have been advocates and allies in this community for over 20 years and stand strong in our identity as a lesbian-owned business.
We love that The Business Team is one of our LGBTBE® certified businesses in the Chamber. Why did you decide to pursue the LGBTBE® certification?
Seeing the work being done in the Houston area by the Greater Houston LGBT Chamber of Commerce, we decided to join in our very first year after leaving a very unwelcoming corporate environment. The Business Team proudly stands beside and are allies for anyone leaving that environment and let them know we are strong in every aspect of our identity. For those who felt they could not have a voice, we enthusiastically speak up on their behalf.
You pitched your business earlier this year at the National LGBT Chamber of Commerce (NGLCC) "Sip & Pitch" event. What was that experience like?
It was a daunting experience to sit in front of a room full of our peers. However, in receiving the same nurturing support our colleagues provided during the national convention, it was far better doing it with this organization over Zoom as that provided a level of security that I don't think I would've felt delivering it to someone else in person. I tend to get tongue-tied and shyness overwhelms me at times.
What advice would you give someone thinking about joining the Chamber?
Do it!!! BUT…only if you can walk the talk and truly stand behind other LGBTQ+ companies, and your participation and allyship is genuine. If it's not, we'll know, and you'd be infiltrating and convoluting our purpose of creating a safe space for our members who otherwise can't be successfully out in their own environment or industry.
What advice would you give other members to engage or maximize their Chamber membership?
Find ways to collaborate with various members. As a Chamber, the goal is to support other businesses, even within the same industry. Finding ways to meet and collaborate with other members on larger projects is the best to get to know the full capacity of each other's offerings.
Do you think there are unique challenges for you as an LGBTQ+ entrepreneur?
Being an LGBTQ+ company still provokes biases in many areas of the country, and some industries. While the younger generation is more accepting of this community, there are still challenges in learning to maneuver through those regional or personally directed obstacles.
What does it mean to you to be a LGBTQ+ business owner/entrepreneur?
The Business Team is bringing a lifelong dream of being a successful business owner to fruition. Being LGBTQ+ just means I've already been trained for the uphill challenges and scrutiny that business brings. It requires that we be honest and proudly authentic about who we are and who we serve.
That authenticity brings with it a peace of mind that is priceless.
In this "new norm" due to the pandemic, what are the top two or three things you've changed to support your clients?
The Business Team has shifted our focus to directly create and manage virtual environments for clients who are not savvy in that area. Requests for our expertise in virtual environment management has increased tremendously.
The Business Team has created safe travel management with the BizSafeTravelTM program to assist clients with moving around the country in a safer way.
The Business Team has begun working more during this pandemic period to review and adjust clients' businesses, and create more flexibility for companies which had no intention of pivoting to soon.
What's ahead in the next couple of years for The Business Team?
In addition to BusinessTeamHouston, The Business Team is in the process of expanding our cities of operations to include BusinessTeamSA (San Antonio), BusinessTeamAustin (Austin), BusinessTeamDallas (Dallas), and BusinessTeamNOLA (New Orleans) over the coming year.
We are seeking a collaboration, or partnership with multiple hotels in each of our operating cities, and with the Vonlane company as a collaborative partner.
What's the best advice you ever received as an entrepreneur?
The best advice received was from my business mentor and Pastor, the late Rev. Vickey Gibbs. She advised me in managing clients' requests, and prioritizing. "Always remember that emergencies happen to everyone. How you respond or help your clients respond is what will set you apart as a creator and/or contributor to the most effective solutions."
Now for some fun…rapid fire! What's your favorite thing to do in HTX when you're not working?
Riding my motorcycle
Barbeque or Mexican, and where do you go for it?
Depends on who's buying dinner…me or my wife, Gloria
BBQ from King's BBQ in LaPorte, and Mexican from anywhere I get to listen to her speak Spanish. (She's a proud Puerto Rican)
Native Houstonian or got here as fast as you could and from where?
Not a native Houstonian; but a proud native New Orleanian, arriving August 27, 2005 evacuating from Hurricane Katrina
First app checked in the morning?
My business calendar
Most used app?
BNI app
Person you FaceTime most often?
Our Grand Daughters (The Grand Ladies)
Most listened-to track?
The Hamilton soundtrack
Anything else you want to mention about your business?
You can engage The Business Team in three ways:
Time Blocks as few as 20 hours per month are available and could be a game changer for anyone trying to multi-task and meet growing demands.
We can also be hired by the Event which covers 2 days prior the day of and the day after any event
We can also be hired by the Hour and will gladly work in the Clients' environment, or remotely to take care of any urgent or last-minute responsibilities.
Consultations are ALWAYS free.
Learn more about The Business Team

https://www.businessteamhouston.com/
Images