Chamber Chat with Nick Wolny, Owner of Hefty Media Group
The Chamber is committed to telling the stories of our members. Chamber Chat is a regular series profiling our members. We love great stories about what drives our members to start their businesses!

In this Chamber Chat, learn more from Nick Wolny, Hefty Media Group, and read about how Nick helps business owners create and deliver engaging content to attract new business. Get the scoop on where the name Hefty originated…as in Hefty Media Group. Hint: It's furry, black and barks.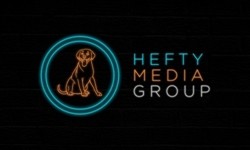 Check out Nick's presentation "Build Your Content Marketing Machine" at the September Power Hour. Register Today! Thank you to Hefty Media Group for sponsoring the Power Hour!

What's your 30-second "elevator pitch" about what Hefty Media Group does?
Hefty Media Group is a content marketing consultancy out to help entrepreneurs, executives, and small business owners create and deliver engaging content consistently. Services include copywriting, video marketing, email newsletter strategy, and social media strategy.

Briefly talk about what led you to start your company.
I went to music school, so I've always loved being creative. My professional experience was that good content helped people love their favorite brands (and buy more), but business owners weren't giving it much time or thought. Oh, and Hefty is our black lab.

What do you think makes Hefty Media Group unique?
Part of why we're hired is to keep up with trends around content and social media, so you don't have to. We focus on building "evergreen assets" first: blogs, PDF guides, email sequences. Then your social media should amplify those assets. Most people do this backwards, and then are frustrated that they're bleeding so much time creating content that people forget about it after a day or two.

Share more about content and what you mean in terms of the importance for businesses. We've heard that saying… "content is king." Developing good content seems to be overwhelming for so many business owners. Why is it such a challenge and how do you help business owners figure out a plan?
Good question! Most business owners are experts at what they do, which is great. Being an expert, though, often makes it harder to communicate your expertise succinctly. We help business owners identify how they solve people's problems, and build out language and content ideas from there.

What are your plans for Hefty Media Group in the next 2-3 years?
We're hoping to get more connected to the LGBTQ community and grow enough that we have bandwidth to do some pro bono services in the community as well.

Why did you join the Greater Houston LGBT Chamber?
I enjoyed the people at the happy hour I attended! And I wanted to connect more with local business owners in a setting that felt good to me.

Why do you think it's important for LGBTQ businesses to have a concentrated voice?
Given our current political climate, employers are still discriminating on the basis of sexuality and gender identity. We're still fighting to have a seat at the table, and growing our LGBTQ business voice is one way to do that.

You applied for the LGBTBE® certification. What appealed about the certification in terms of being able to grow your business?
My business is 100% virtual, so the prospect of connecting with other business owners nationally is exciting.

What is the best advice you've ever received as a business owner?
"Your network is your net worth." It's so true! Would love to meet you at a future mixer.

What are the positive aspects of running a business in HTX?
I think Houston strikes a nice balance as a hotbed for entrepreneurship while still being diverse. You're conditioned to go out of your way to meet people here, and it makes networking easier

Now for some real fun…Barbeque or Mexican, and where do you go for it?
Ohhhh, good one… I'd have to say Mexican, and love me some Ninfa's!
When you're not working, what do you do for fun?
I still play music now for leisure, have watched literally every single horror movie on Netflix, and have fun with our dog, Hefty.
Learn more about Nick and Hefty Media Group