Chamber Chat with Rachel Applegate, Director of Marketing and Communications, with the Alley Theatre
The Chamber is committed to telling the stories of our members. Chamber Chat is a regular series profiling our members.
In this Chamber Chat, we profile Rachel Applegate, Director of Marketing and Communications, with the Alley Theatre. Rachel shares more about the Alley Theatre and we get to learn a bit more about her.
We are proud to call the Alley Theatre one of our members and recently announced a partnership. Through the Alley-Chamber partnership, our members have an array of benefits through the Alley including discounted tickets and access to backstage tours. The Chamber is also proud to be one of the 2020 sponsors of ActOUT.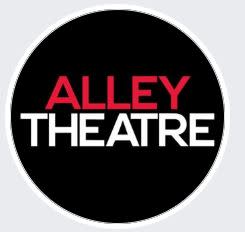 Thank you to the Alley Theatre for hosting our 2020 Anniversary Celebration and your continued support of the Chamber and LGBTQ & Allied Business Community!
Please share some background about the Alley Theatre.
The Alley Theatre, one of America's leading nonprofit theatres, is a nationally recognized performing arts company led by Artistic Director Rob Melrose and Managing Director Dean R. Gladden. The Alley produces up to 16 plays each year in its newly renovated Theatre, ranging from the best current work, to re-invigorated classic plays, to new plays by contemporary writers. The Alley is home to a resident company of actors.
In addition, the Alley engages theatre artists of every discipline – actors, designers, composers, playwrights – who work on individual productions throughout each season as visiting artists. The Alley reaches over 200,000 people each year through its performance and education programs. Its audience enrichment programs include pre-show and post-performance talks, events, and workshops for audience members of all ages.
The Arts scene in Houston has really garnered national attention. How has the Alley played a role in raising our visibility?
As the oldest producing theatre in Houston, the Alley's aim is to be an acknowledged leader of the American Theatre movement. Part of that acknowledgment is about adding new theatre to the American canon which will then move on to other theatres across the county. Embedded in our historical DNA is a commitment to new work and developing world premiere plays.
The re-commitment was solidified with the creation of the Alley All New initiative. Alley All New is comprised of a variety of public and in-house programs designed to support playwrights and cater to the needs of each new project. Through this initiative, the Alley produces world premieres, commissions new plays, and supports playwrights year round. This initiative has brought national attention to the Alley as well as all the arts in this cultural gem of a city.
The Alley underwent a massive renovation. Can you share more about the renovation and the what you wanted to achieve?
The recent renovation of the Alley's Hubbard Theatre created a new 774-seat state-of-the-art performance venue. Matched with the newly rebuilt 296-seat Neuhaus Theatre, the Alley offers nearly 500 performances each season. The main purpose of the renovation was to move the Alley into a more up-to-date, technically speaking, theatre space as well as become more streamlined so to produce more theatre for more people.
The Alley does so much more than the actual productions. Can you share more?
The Alley offers a robust Education and Community Engagement program that serves not only youth throughout the Houston area but also engages teachers, professionals, and theatre fans of all ages. Applied theatre at the Alley (Alley ECE) is a national driving force for innovative arts education. We pioneer arts integration, cultivate the next generation of theatre artists, and foster community discourse.
The Alley offers in-classroom performances that focus on social/emotional learning, teacher professional development, behind-the-scenes tours, student matinees for most mainstage productions, professional speaking and accent reduction classes, and so much more!
We love ActOUT! Can you share more about ActOut and how Chamber members can participate?
ActOUT is one of our favorite events too! ActOUT is held on a Thursday evening during most productions and features a pre-show reception with food donated by Devour Catering. Our wonderful community partners donate raffle items such as Spec's Gift Cards, tickets to other arts venues, private DJ for parties, etc.
And we have a live DJ spinning hot tracks, all while allowing our guests to mix and mingle, enjoy delicious food, and then on to the show! Visit alleytheatre.org for more info and to buy tickets.
We are proud to call the Alley Theatre one of our members and partners. Why is it important for the Alley to partner with the Chamber?
The Chamber is one of the premiere groups in Houston that aligns with our support of the LGBTQ+ community. Partnering together to promote allied organizations and spread the word about both of our missions is key to our success.
What's ahead in the next 3-5 years for the Alley Theatre?
More fantastic productions! But really, in two years we'll be marking the 75th Anniversary of the Alley. That alone is a huge excitement for all of us, and hopefully, all of Houston. We also expect to see a new adaptation of A Christmas Carol in coming years as well as developing and premiering new works on our stages.
What's your favorite thing to do in HTX when you're not working?
Eat! Who doesn't love the food scene here in Houston?! Beyond that, I love a good Netflix/Prime/Hulu binge watch.
Barbeque or Mexican, and where do you go for it?
Tough call. Can I choose both? For barbecue, I'm super excited for Truth to be in Houston. But Goode and Co. is a champ in competition. For Mexican, I always take out-of-towners to Ninfa's on Navigation. But I'm a big fan of Superica.
People would be surprised to know that I…
Love to tap dance.
One thing I wish people knew more about the Alley Theatre is…
We are a producing theatre. Unlike Broadway tours that come to town, we design, build, and produce every show on our stages. We ARE Houston's theatre – we produce theatre for every age, every gender, every race, every everybody. When founder Nina Vance opened the Alley, she said, "Houston, this is your theatre." And today, Artistic Director Rob Melrose is re-invigorating that sentiment by throwing open the doors, inviting everyone to come, and experience great art. So come, everyone is welcome!
Learn more about The Alley Theatre
Learn more about The Alley Theatre at https://www.alleytheatre.org/ and via social media
Check out this video, created by our new Artistic Director Rob Melrose, which does a great job talking about the shows for the 2020 season!