COVID-19 Update
Weekly Chamber Update on COVID-19
Chamber COVID-19 Update
April 14, 2020
Members and Supporters,
Another week of #StayingAtHome and I know some of you are feeling a bit isolated! It's been a challenge not engaging with members in-person and having that connection. So…we are rolling out more virtual networking to keep you connected! Our first virtual Brewing Up Business was a huge success, so we are launching our Chamber Connect this week. An hour of online virtual networking and connection. Grab your favorite drink, login to zoom and CONNECT with other members.
The Facebook Member Group continues to grow! If you are a member, please request access via Facebook Member Group. We are sharing out COVID-19 updates as well as lighter topics such as food pics, etc. Come join in and CONNECT with fellow Chamber Members. Share what you've been up to during this time. We love hearing from our members.
Check out the ChamberCares update and how our Members are helping other Members and learn how you can support healthcare workers and first responders.
We have some great webinars coming up as well so check out the events calendar and register.
It's a challenging time but We Are All In This TOGETHER . If you need anything please call the Chamber Office at 832-510-3002 or email info@houstonlgbtchamber.com . We are here for you.
Tammi Wallace
Co-Founder & Board Chair
Launch of ChamberCares program!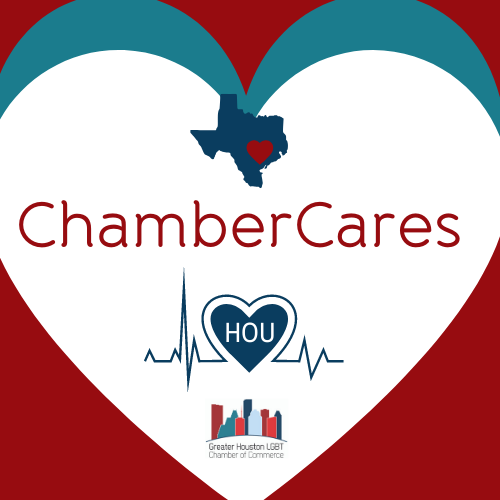 Read more...see our full Chamber COVID-19 update here.