Fleet Safety Matters for Businesses and Citizens
Fleet Safety Matters for Businesses and Citizens
by Misty Cornelius, Together For Safer Roads
Application Period Now Open for Free Fleet Safety Training Program
for Houston-Area Small- and Mid-Sized Businesses
Together for Safer Roads and City of Houston launch program to provide fleet safety management best practices and workforce development training in support of Vision Zero
The application period is now open for local businesses to apply for a free fleet safety training program that will kick-off in late April. On Tuesday, March 16, 2021, road-safety coalition, Together for Safer Roads (TSR), Houston Vision Zero, and the City of Houston Office of Business Opportunity (OBO) will host an informational webinar to provide more details on the program. Organizations interested in participating or learning more can sign up for the webinar here.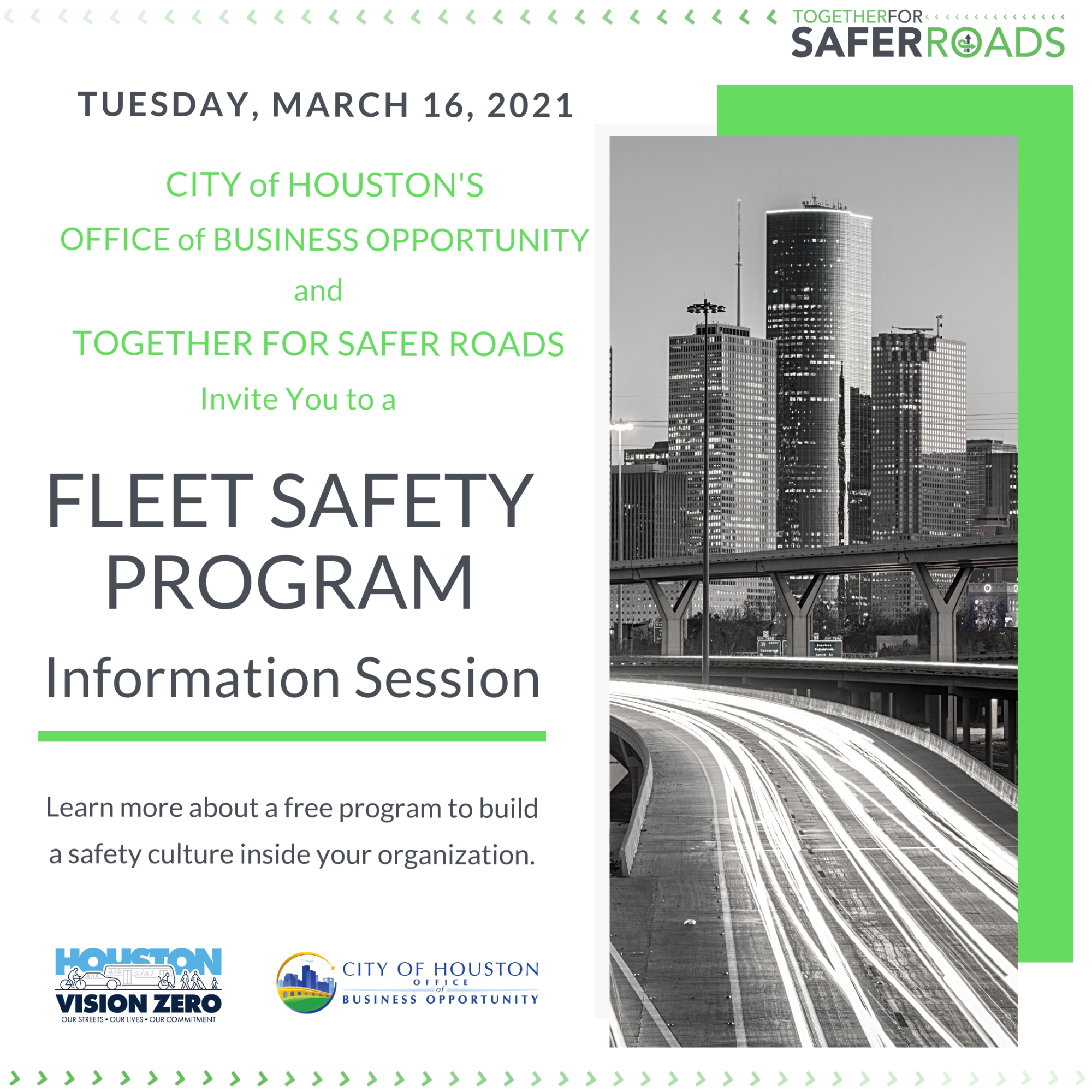 The FOCUS on Fleet Safety training program is part of Mayor Turner's and the City of Houston's new Vision Zero Action Plan, which is working to eliminate traffic deaths and serious injuries in Houston by 2030. The free, year-long program will help local fleets build cultures of safety and continuous improvement.
In its first year of operation, the free program is open to ten fleets in Houston. Criteria for the program includes any business or non-profit organization that:
Has 2-100 vehicles, some of which must be trucks (single unit class 2 and above -- e.g. Ford F-250s, box trucks, sprinter vans and larger, no tractor trailers)
Operates in Houston
Commits to building a safety culture!
This training program was created with small businesses and non-profits in mind, where organizations and employees often wear many hats and may not have the time or resources to devote to safety and training programs but are still committed to doing their part for a safer community.
If as a community we are to end traffic deaths and serious injuries by 2030, it will take the collective work of local government, businesses and private citizens – we must all do our part to create safer roads for Houston, for our employees, and for our families. The FOCUS on Fleet Safety program is one step in that direction.
Equal parts safety training and workforce development, the program helps leaders, managers and drivers inside organizations develop professional skills that they can use in almost any job: change management, employee management, human resources management and working with data. The program includes workshops, trainings, executive coaching and supporting materials organized around three themes:
Leadership and organizational change management;
Training and professional development; and
Vehicle safety technology
Key dates for the program include:
Tuesday, March 16, 11 am CT - Informational webinar for interested applicants
Friday, March 26 - Application deadline
Week of April 5 - Participants are notified
Week of April 26 - FOCUS on Fleet Safety program begins
The City of Houston Office of Business Opportunity and Together for Safer Roads staff are available throughout the process to assist with the application process and answer any questions.
For more information on how your organization can be a part of the FOCUS on Fleet Safety program, please email: dfrick@togetherforsaferroads.org.