Shan Randle - 2020 Volunteer of the Year
Dedicated and Advocate - those two words describe Shan Randle! It's no surprise that Shan Randle was chosen as the 2020 Volunteer of the Year. Shan has been a key part of the Membership Committee throughout 2020. She takes her time and gets to know Chamber members and make connections. Shan has been a HUGE advocate for the Chamber engaging new members and getting them connected. Plus, Shan is an amazing advocate for the LGBTQ+ & Allied business community and actively connects business owners and consumers to other Chamber Member businesses.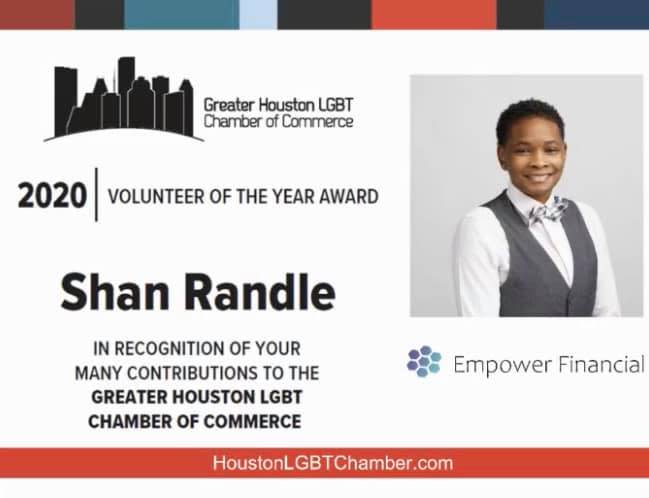 Tell us more about yourself and your background.
I'm an openly gay, black Realtor and podcast host in the Houston Metro area. I grew up in the small town of Bay City, which is about two hours southwest of Houston. I graduated from Sam Houston State University, after which, I pursued a career of a public educator. After eight years of teaching, I switched gears to entrepreneurship. I became a Realtor to be my clients' best advocate and guide them through the process of homeownership.
Share more about what you do professionally?
I help people buy, sell, lease and invest in real estate. My goal is to bridge the gap between homeownership and the LGBTQ+ community. Only 49% of the LGBTQ+ community are homeowners versus the 64% homeownership rate of the general population. My duty is to show clients their best options and guide them through the process as their trusted advisor.
How did you get involved with the Greater Houston LGBT Chamber of Commerce?
About three years ago, I was searching for environment where I could feel comfortable and accepted to help build my career as a Realtor. While researching online for LGBTQ+ organizations, I came across an event hosted by the Greater Houston LGBT Chamber of Commerce. After attending my first event, I met my now life partner. With her real estate investing and financial skills and my retail real estate agent skills we created a company named Empower Financial. Through the Chamber, we have gained our LGBTBE® Certification for our business as well as made many meaningful connections and become more integrated into the LGBTQ+ community.
I've seen first-hand the benefits of getting involved in the community from volunteering on the membership committee for the Greater Houston LGBT Chamber of Commerce and as a board member for the Houston LGBTQ+ Real Estate Alliance. Getting involved will expose you to opportunities to help make a difference in your community by volunteering, donating, and mentoring. Community involvement helps us band together as a stronger community and boost our visibility and representation. There are so many amazing people to meet, work with, mentor and help. We should all take part in building our community.
What are you doing to make a difference and give back to the community?
I am determined to bridge the gap between the LGBTQ+ community and homeownership through education, community, and inclusivity. I also host a podcast, Shen & Shan Show: LGBTQ+ Pride & Business, where we highlight the stories and careers of LGBTQ+ professional and entrepreneurs. 75% of proceeds from this podcast are donated to nonprofit organizations that support the LGBTQ+ community.