Sticking to a Synchronized Schedule by Taylor Anne Adams
Thank you to Taylor Anne Adams, who is the Director of Strategy & Business Development with Chamber Member, The Cannon, for her timely blog post titled Sticking to a Synchronized Schedule. Check out Taylor Anne's wise words about how these "unprecedented times call for unprecedented practices."

This post was originally posted via LinkedIn.
---
Sticking to a synchronized schedule
Working from home one or two days a week has proven very successful for me in the past. It's nice to break away from the normal routine every once in a while, be able to wake up a little later since there's no commute, and really focus on getting work done. However, with the recently mandated WFH order, I'm finding that it can make me slightly stir-crazy to not be bouncing ideas off of my teammates in a shared space. Luckily, I work with some amazing people and we've decided to try something a litttttttle different.
Every article and blog post these days emphasizes the importance of sticking to a routine in these mandated WFH times. And frankly, they're not wrong. A routine can help normalize this abnormal moment and allow you to disconnect from work when it's time to shut down. Because our physical space is consistent throughout the day, a routine, rather than spaces, can signal to your brain when it's actually time to unplug.
But, what about a shared routine? What if you and your teammates agreed to keep the same WFH schedule for one whole week? Would it be a lighting bolt success? Would it drive everyone crazy? With all of this alone time to reflect and understand how you best operate, now is the time to try it out and take those learnings back once work is back to normal.
We are working to break down the physical isolation that working from home creates and actively testing best practices. Loneliness is paramount these days and as social beings, this solitude can really take a toll on productivity and mental health. These unprecedented times call for unprecedented practices and I am so grateful to be part of a team that pushes the limits every single day.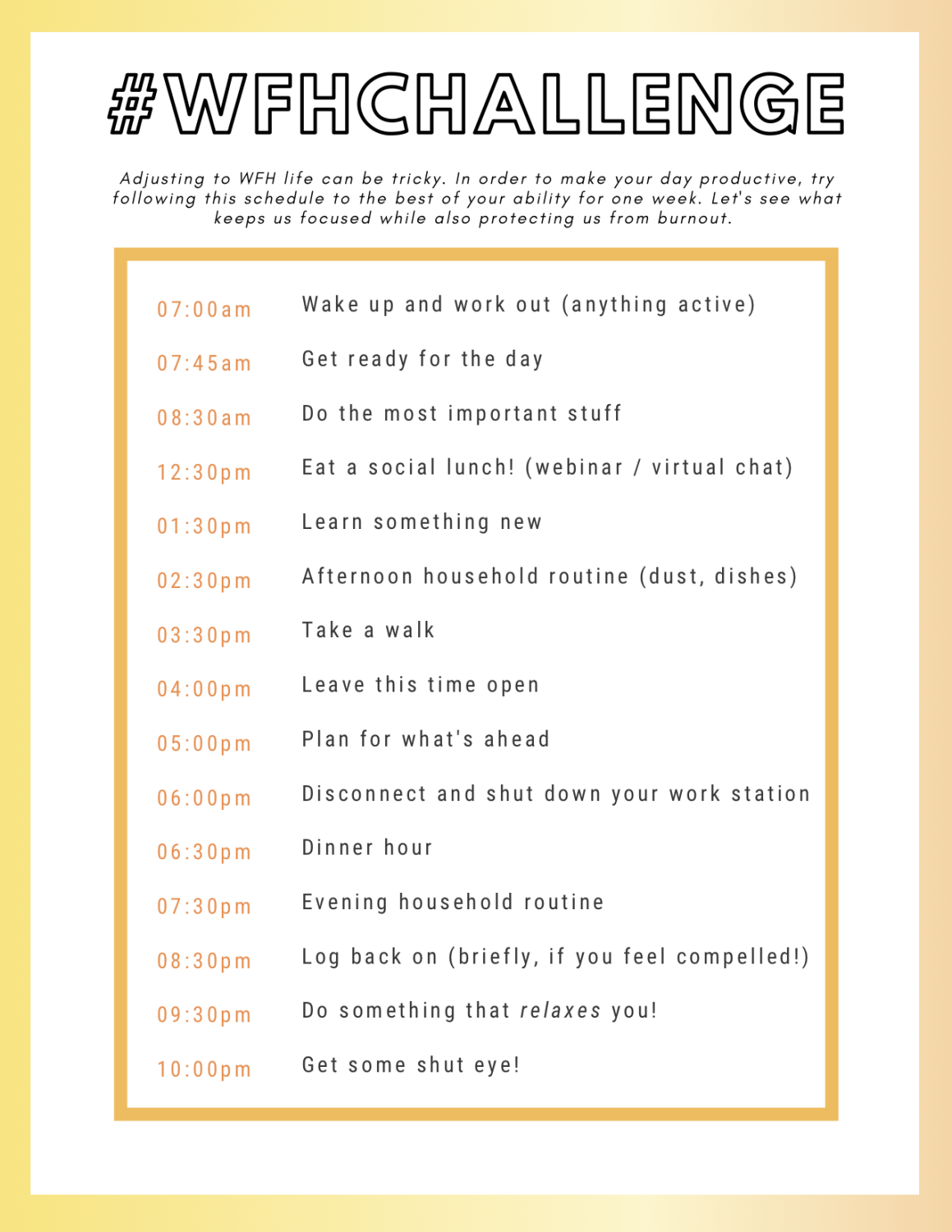 Taylor Anne is an expert in brand strategy and communications. She previously worked in digital media and entertainment in Los Angeles and New York City, and has worked with numerous startups in the consumer goods space. She is also a longtime advocate for women entrepreneurs and advisor to female founders. She graduated Cum Laude from Wake Forest University with a degree in Communication and Sociology. Her expertise includes branding and marketing, image and reputation management, and talent scouting and management.