First Friday Meet & Eat
Friday, February 4, 2022 (12:00 PM - 1:00 PM) (CST)
Description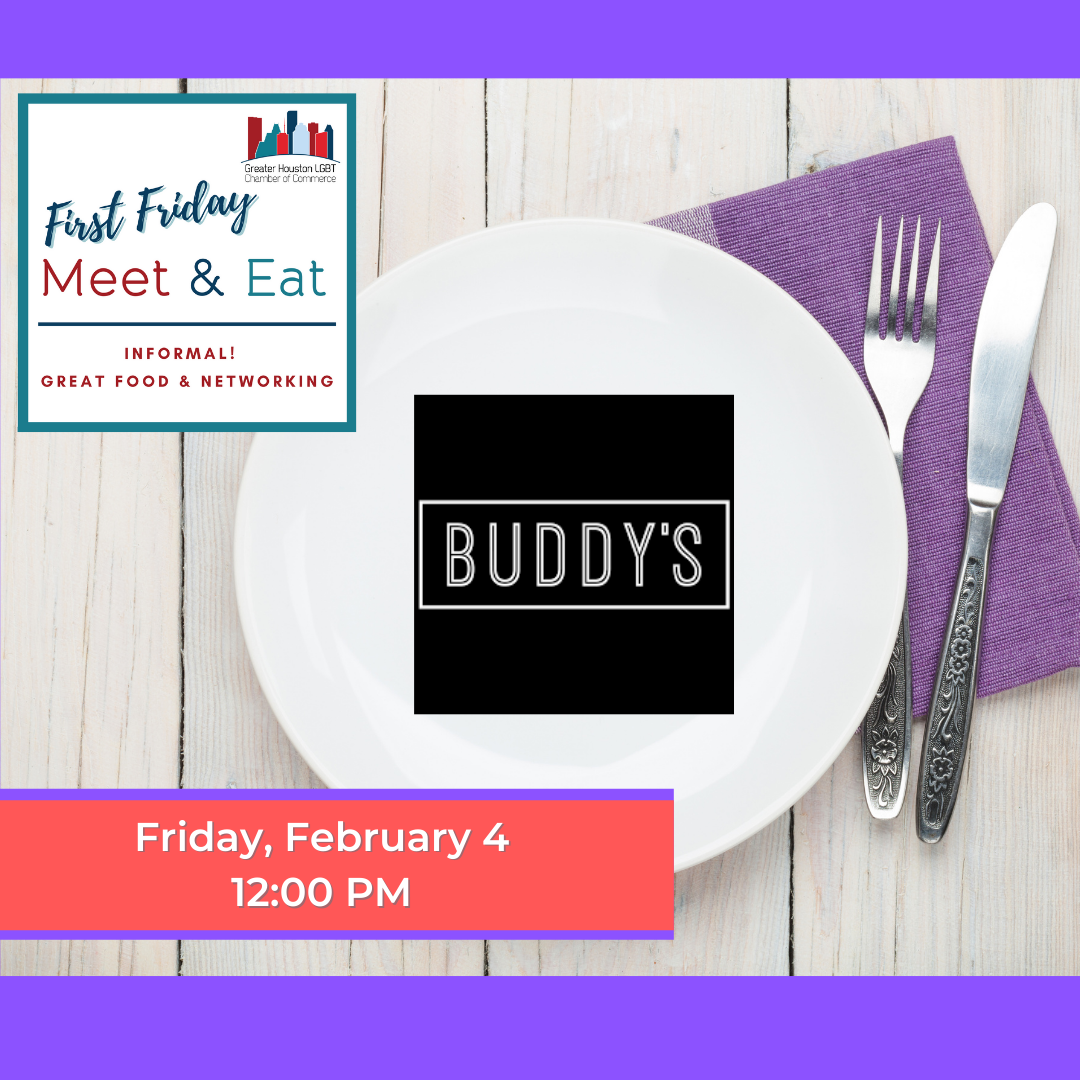 Friday, February 4, 2022 | 12:00 PM
BUDDY'S
Members and guests are invited to join this informal lunch gathering to enjoy a great meal, networking and patronize a valued Chamber member.

This informal gathering is all about great company and food. Bring your business cards and appetite for a casual meal and conversation at BUDDY'S. The Meet & Eat is also a terrific way to support our member restaurants!

No registration required. Each person is responsible for their meal. First come first group sits together. Show up, network and support a Chamber Business!
Let's support our member restaurants! Mark your calendar and plan to meet other Chamber members for lunch on the First Friday of each month.
Health & Safety Protocols
The health and safety of attendees is our highest concern. With the current state of the pandemic, the Chamber has been monitoring the most recent health guidelines and advice from public health agencies.
For Chamber events hosted at other venues, the Chamber will follow each venue's stated mask and social distancing protocols. We encourage attendees to wear masks when indoors and not eating or drinking.
We encourage all attendees to be fully vaccinated. If you are not fully vaccinated, we ask you to please maintain a social distance from other guests and continue to wear your mask at Chamber events as you enter and move throughout the venue.
If you opt to wear a mask for your comfort and protection, this is a respected decision, and you can be confident in knowing that your fellow Chamber members will honor your choice and maintain a safe distance.
All event attendees should be diligent in following all CDC guidelines. Please review the specific event health & safety protocols when registering for upcoming events including any host venue requirements. Please stay home if you are feeling sick and follow recommended safety protocols.
Greater Houston LGBT Chamber of Commerce
COVID-19 PANDEMIC WAIVER
Waiver of Liability and Disclaimer:
By registering for any events, attendees are willingly participating in a Greater Houston LGBT Chamber of Commerce in-person events, and hereby waive, release, absolve, indemnify and agree to hold harmless the Greater Houston LGBT Chamber of Commerce, their Board of Directors, employees, contractors, organizers, supervisors, participants, and persons for any claim arising out of any injury or illness I may incur as a result of negligence or for any other cause. By participating in a program or event during the COVID-19 pandemic, while still following the guidelines outlined by the State of Texas, event attendees understand there is still a chance of contracting the virus that causes COVID-19. Furthermore, attendees understand that there is a chance of spreading the coronavirus while asymptomatic.
Are you a restaurant interesting in hosting the Chamber First Friday Meet & Eat?
Contact the Chamber at 832-510-3002 or at info@houstonlgbtchabmer.com to learn more about how your restaurant can host the First Friday Meet & Eat.
If you're looking to get in front of other members, consider sponsoring an upcoming Brewing Up Business. Showcase your brand while connecting with the LGBTQ and Allied business community. Click here for sponsorship information.
By registering and/or attending a Greater Houston LGBT Chamber of Commerce program or event, in any format, you agree to the above and to the Chamber's Meeting & Event Photo Policy and other Terms of Use & Policies available online at https://www.houstonlgbtchamber.com/terms-of-use-policies/.
Friday, February 4, 2022 (12:00 PM - 1:00 PM) (CST)