KNOW YOUR RIGHTS! SB 12 "The Drag Ban Bill" Goes Into Effect September 1
Monday, August 21, 2023 (4:00 PM - 6:00 PM) (CDT)
Description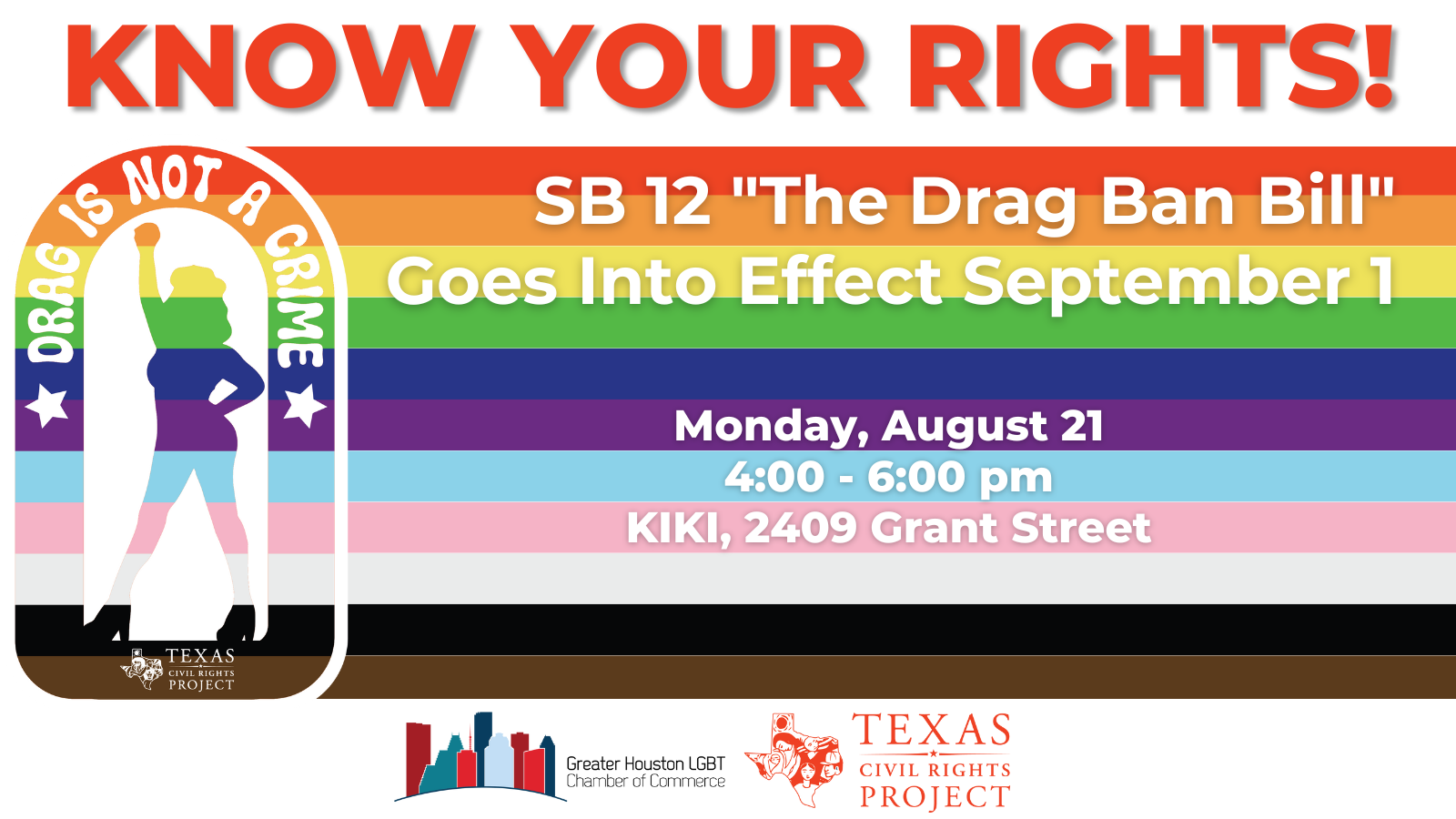 Join the Chamber and the Texas Civil Rights Project (TCRP) for a session to learn more about this new law. EVERYONE is welcome to attend. You do not have to be a member of the Chamber.
What the session will cover...
The history of the law
Review the version of the law that finally passed, including what performances are prohibited
Penalties for performers and businesses that host including three separate enforcement mechanisms in the law
Learn more about what is being done to challenge this dangerous law including the recently filed lawsuit against the State of Texas with the Chamber and others as plaintiff's
What to do if you get charged including ways to protect yourself
There will be a Q&A portion of the program as well to provide attendees to get questions answered.

Join us to KNOW YOUR RIGHTS and educate yourself on this new law. The Chamber is here to support the community to share facts and resources as part of our partnership with TCRP.


Speaker



Dustin Rynders

(he/him)




Director, Criminal Injustice Program





Dustin Rynders is the Director of the Criminal Injustice Program at the Texas Civil Rights Project. Dustin directs the team's litigation and state and local policy advocacy. He is a Texas native who has worked in public interest civil rights law with an intersectional focus on disability, race and LGBTQ+ identity for the past seventeen years. He is also a former President of the Stonewall Law Association of Greater Houston. Dustin received a B.A. from Pepperdine University, cum laude (2001), a M.P.Aff. from the L.B.J. School of Public Affairs at the University of Texas (2003), and a J.D. from The University of Houston Law Center (2006). Dustin and his husband, Mike, live in Houston with their son.




Our Mission
We are Texas lawyers and advocates for Texas communities, boldly serving the movement for equality and justice in and out of the courts. We envision a Texas where all communities thrive with dignity and justice and without fear.
TCRP believes that legal advocacy and litigation are critical tools to protect and advance the civil rights of everyone in Texas, particularly our State's most vulnerable populations, and to effect positive and lasting change to law and policy. We believe that by serving the rising social justice movement in Texas with excellent legal representation and bold strategies, we can respond to the needs of the communities we serve.





The event will be hosted at KIKI, 2409 Grant Street, Suite D, Houston, TX 77006. Thank you to KIKI for hosting this important event for the community.
By registering and/or attending a Greater Houston LGBT Chamber of Commerce program or event, you agree to Chamber's Terms of Use & Policies available online at https://www.houstonlgbtchamber.com/terms-of-use-policies/.
Pricing
This session is complimentary to Chamber members and guests.
KIKI
2409 Grant Street, Suite D



Houston

,

TX

77006

United States




Limited surface lot parking and street parking are available.
Monday, August 21, 2023 (4:00 PM - 6:00 PM) (CDT)