POSTPONED: Business Builder Series: LGBTBE® Roundtable - I'm Certified, Now What?
1717 West Loop South
Houston
,
TX
77027
United States
Wednesday, April 22, 2020 (10:00 AM - 12:00 PM) (CDT)
Pricing
Members: Free and open only to LGBTBE Certifed Chamber Members.
Due to concerns related to COVID-19 (Coronavirus) and large social gatherings, the Business Builder Series: LGBTBE® Roundtable - I'm Certified, Now What? has been postponed. We will update you on a new date in the near future.

At this time, we have canceled all events through April 30, 2020. All future events will be reviewed and adjusted accordingly as more updates and information become available. We will notify you of any changes via email and social media as we work through this challenging time together.

We are working on webinar options to keep our members connected during this difficult time. Please check back and keep an eye out for updates via email and social media.

The Greater Houston LGBT Chamber remains dedicated to you, our members, and our mission of supporting the LGBTQ & Allied Business Community. The best interests of you, your families, your employees, and your customers are our primary consideration at this time. A healthy community is essential to a healthy economy, and we will continue to provide resources for you to closely monitor this situation.

#WeAreAllInThisTOGETHER
---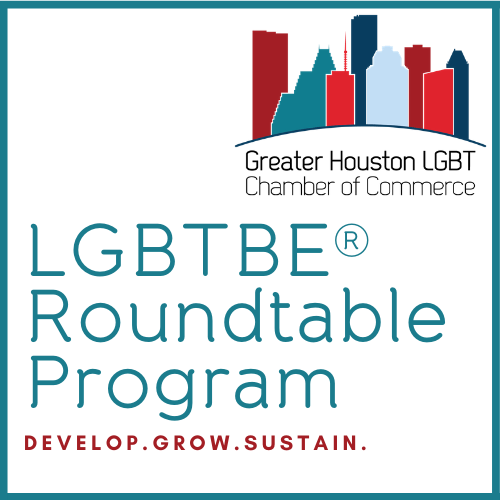 This event registration is open only to Greater Houston LGBT Chamber members who are LGBTBE® certified.


This event is part of the LGBTBE® Roundtable Program which offers connections and opportunities to help your certified LGBT Business Enterprise thrive. The main goal of the program is to foster the development, growth and sustainability of certified LGBTBEs who are members of the Greater Houston LGBT Chamber.

The LGBTBE® Roundtable Program is consistent with the Chamber's mission of supporting our members through business growth, education, and advocacy. As an LGBT Business Enterprise and Chamber member, certified LGBTBE® businesses are automatically eligible to participate in the LGBTBE® Roundtable Program, comprised exclusively of certified, LGBT-owned companies.

Join other LGBTBE® certified businesses for this roundtable to learn more about how to maximize your LGBTBE® certification and work most effectively with our corporate partners. Participants will hear from a panel of experts from Chevron, Shell, NGLCC and an LGBTBE® certified business owner about how to utilize the LGBTBE® certification including:
Overall business development strategy utilizing the LGBTBE® certification
Corporate supplier diversity and how LGBTBE® businesses can effectively engage including tips and strategies to prepare for supplier diversity engagement
Learn more about a capability statement
Resources available to LGBTBE® certified businesses including the NGLCC Mentorship Program
Plus, learn more about the upcoming NGLCC International Business & Leadership Conference in Las Vegas and how LGBTBE® certified businesses can participate in matchmaking and other opportunities at the conference.

Participants


Alex Gallardo - Category Manager - Freight & Land Transportation, Chevron

Brian Hall - Manager, Supplier Diversity & Advocacy, Small Business Liaison Officer, Shell Oil Company

Sabrina Gill Kent - Senior Vice President, National LGBT Chamber of Commerce (NGLCC)
Lianne Lami - CEO, Bocci Engineering and LGBTBE Certified Business Owner

Moderator: Tammi Wallace - Co-Founder & Board Chair, Greater Houston LGBT Chamber

Thank you to our panelists for your participation and to our corporate partners, Chevron and Shell and the NGLCC for your partnership.

Thank you to our corporate partner, Amegy Bank, for hosting this LGBTBE® Roundtable as part of our Inaugural Chamber Educational Series.




Not LGBTBE® certified? Do you want to participate in future opportunities through the LGBTBE® Roundtable Program? Is your business 51% or more LGBT-owned? Click here to learn more about how you can apply for the LGBTBE® certification through the NGLCC and how to waive your certification fee.
Register for the Business Builder Series: LGBTBE® Certification 101 Workshop, which is open to any business interested in the LGBTBE® certification. Click here for more details about the LGBTBE® Certification 101 Workshop.
Gallery
Contact Organization:
Greater Houston LGBT Chamber of Commerce