SPECIAL EDITION: Brewing Up Business Celebrating LGBTQ+ History Month
Wednesday, October 13, 2021 (8:00 AM - 9:30 AM) (CDT)
Description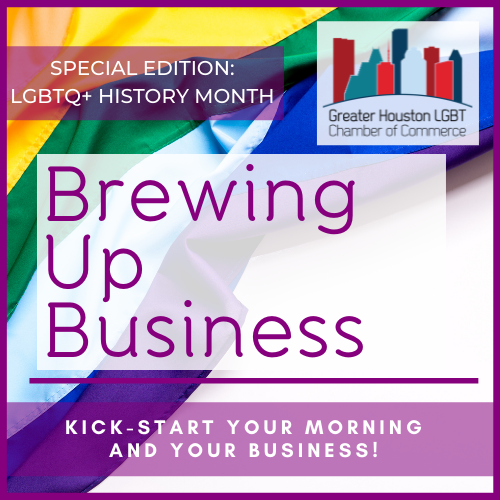 Wednesday, October 13, 2021 | 8:00 - 9:30 AM
VIRTUALLY!
SPECIAL EDITION:
CELEBRATING LGBTQ+ HISTORY MONTH!
Featuring Special Guest, Rodney Wilson, Founder of LGBTQ+ History Month
Join us for the Special Edition: Brewing Up Busness celebrating LGBTQ+ History Month sponsored by Chamber Member, ListenWerks. LGBTQ+ History Month is celebrated every October to recognize and honor the history of the LGBTQ+ community. This Special Edition version will feature Special Guest, Rodney Wilson, who is the Founder of LGBTQ History Month.
Rodney Wilson is a high school teacher credited with creating LGBTQ+ History Month. October was selected because schools are in session, and it is the month in which the first national march for lesbian and gay rights occurred and National Coming Out Day is celebrated. Learn more about Rodney's background here.

This event will include a "fireside chat" with Rodney Wilson as well as plenty of opportunity to network. Casual networking starting at 8:00 a.m. on the Airmeet platform. Grab your coffee and join a networking table in the Chamber Networking Café where you can switch between tables or meet one-on-one. We've got you covered however you like to network! After the program, stick around for more networking and connection at your leisure in the Chamber Networking Café.

Thank you to Chamber Member ListenWerks for sponsoring the Special Edition: Brewing Up Business celebrating LGBTQ+ History Month.

Guests are always welcome...we would love to have you join us! We look forward to seeing you!
The Chamber Virtual Brewing Up Business is hosted via the Airmeet platform. Check out Airmeet here and set up your account and profile. Airmeet gives you total control of your Chamber networking experience!
If you need technical assistance before or during the meeting with Airmeet, call the Chamber Office at 832-510-3002.
Sponsor a Chamber Event!

If you're looking to get in front of other members, consider sponsoring an upcoming Brewing Up Business. Showcase your brand while connecting with the LGBTQ and Allied business community. Click here for sponsorship information.


The information provided in this Chamber event does not, nor is it intended to, constitute legal, medical, or other professional advice. Information, content, and materials are intended for general information purposes only.
Opinions expressed are the speakers' own and do not necessarily reflect the view of the Greater Houston Chamber of Commerce or its Foundation. The Chamber or Chamber Foundation does not verify for accuracy any of the information contained herein.
By registering and/or attending a Greater Houston LGBT Chamber of Commerce program or event, in any format, you agree to the above and to the Chamber's Meeting & Event Photo Policy available online at https://www.houstonlgbtchamber.com/terms-of-use-policies/.
Images
Pricing
General Admission: $10
Members: This program is complimentary to Chamber Members.
Members: Be sure to log in to get the Members Only rate.
Event Contact
Maureen Maiuri
Wednesday, October 13, 2021 (8:00 AM - 9:30 AM) (CDT)
Categories
Business Networking