Resolution honoring gay marriage plaintiffs pulled from vote in Texas House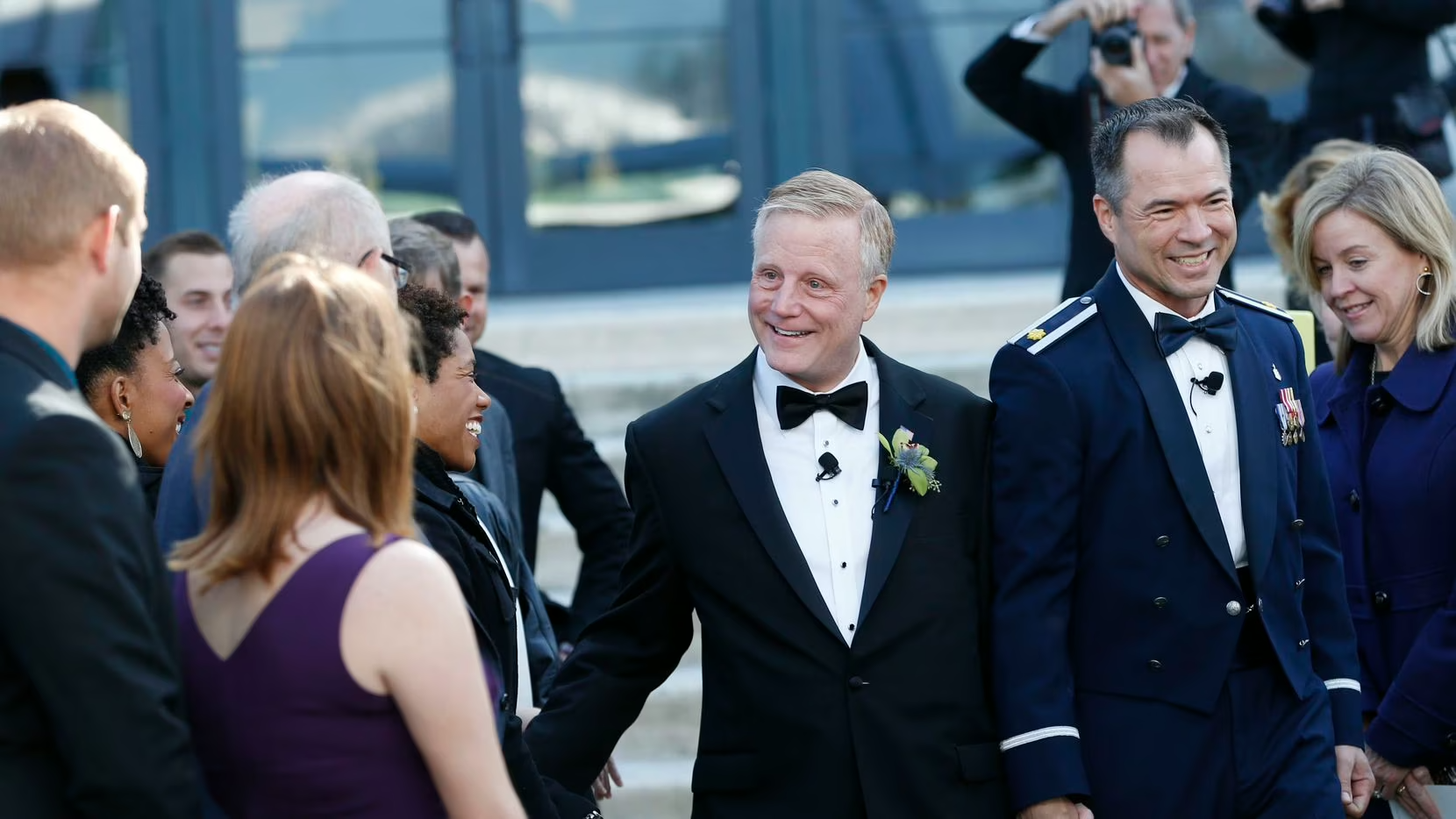 Mark Phariss and Vic Holmes make their way down the aisle during their wedding at the Westin Stonebriar Hotel in Frisco on Saturday, November 21, 2015. Pharris and Holmes were the plaintiffs who sued the state for the right to marry in DeLeon vs. Perry. (Vernon Bryant/The Dallas Morning News)(Vernon Bryant / Staff Photographer)
AUSTIN — The Texas House will not vote on a resolution honoring a prominent North Texas gay couple after GOP opposition emerged, The Dallas Morning News has learned.
House Resolution 85 was meant to honor Mark Phariss and Victor Holmes, two Plano residents who sued to overturn the state's ban on same-sex marriage. The state of Texas conceded defeat after the U.S. Supreme Court ruled that gay marriage is a constitutional right in 2015.
Phariss and Holmes were married that same year.
The congratulatory resolution, a symbolic gesture that wouldn't change state law, notes that the couple has "made a lasting, positive difference through their advocacy for the LGBTQ+ community" and notes that Phariss is a longtime attorney and Holmes served in the Air Force when members of the military were not allowed to openly identify as gay.
The resolution's author said she made the decision to pull it from a vote because she did not want a statement meant to honor Phariss and Holmes "to be used as political pawns or be subjected to harassment." She said she spoke with the couple in making her decision.
"I find it deeply hurtful that HR 85 has been targeted by a handful of disruptive and unproductive members," Rep. Mihaela Plesa, D-Dallas, said in a statement provided to The News. "We will not be a party to the hatefulness on display. I will still honor them with a resolution that will not need to go before the full House, and Mark and Vic will continue their civic engagement and service to our community. We are undeterred and we are laser-focused on meaningful legislation."