June 2021 - Pride In Business Celebration Wrap Up, Comcast RISE Recipients, HBJ Special Section
May 2021 - Upcoming Pride Events, Member Spotlights, HBJ Partnership
April 2021 - Inaugural Member Spotlights, Pride In Business, Viral Video
March 2021 - Celebration, Inaugural Member Spotlights, Pitch Your Biz
February 2021 - Chamber Anniversary, Best Places to Work for LGBTQ Equality, Member Spotlights
January 2021 - PPP, Legislative Convenes, New Events for 2021, Member Spotlights
December 2020 - Closing out the Year, Chamber Holiday Food Drive, Corporate Partner Highlight
November 2020 - Gratitude, Chamber Holiday Food Drive, Alley Virtual Holiday Celebrations
October 2020 - Gayest & Greatest Winners, Out to Vote Early, LGBTQ Bar Polling Location
September 2020 - President & CEO and Board Leadership Announcement, Member Spotlights, National Small Business Week
August 2020 - Gayest & Greatest, PPP Loan Forgiveness, Board Member Spotlight, New YouTube Channel
July 2020 - Chamber Champion, Consulate General of Mexico in Houston Partnership, Harris County Small Business Recovery Fund, PPP Deadline Extended
June 2020 - Pride Month, Diversity Equity & Inclusion Conference, PPP Funds Still Available
May 2020 - How To Get LGBTBE Certified, New OBO Director, Upcoming Events
April 2020 - ChamberCares, Bank of America Accepting PPP Applications, New Webinars
March 2020 - COVID-19, Support Local, Upcoming Webinars
February 2020 - Chamber 4th Anniversary, Pride Nights, New Corporate Partner
January 2020 - Chamber of the Year, NGLCC 2020 Conference
December 2019 - End of Year Message, Small Business Award Nominations
November 2019 - Holiday Party, October Event Recap
October 2019 - National Coming Out Day, Upcoming Events
September 2019 - Tropical Storm Imelda, NGLCC Conference Recap
August 2019 - New Corporate Partner, Member Spotlights
July 2019 - Inaugural Education Series, member gets special recognition
June 2019 - Celebrating Pride, Upcoming Events & More!
May 2019 - Pride in Business, LGBTBE® certification
April 2019 - NGLCC Conference Registration, United Leading the Way
March 2019 - Chamber 3rd Anniversary, New Strategic Partnerships
February 2019 - Texas LGBT Chambers of Commerce Unite, Welcome Jonathan Marrs
January 2019 - Special event with Mark David Gibson, Regions Bank ribbon cutting
December 2018 - New Silver Corporate Partner Comcast, happy holidays
November 2018- New Chamber site, sponsorship opportunities and more
October 2018- Chamber Board Chair transition, SBA Strategic Partnership
September 2018- UH Small Biz Development Workshops, Entrepreneurial Bootcamp
August 2018 - Thank you to corporate partners, member gets special recognition
July 2018 - Prepare for natural disasters and countdown to conference
June 2018 - Pride in Business, Pride calendar and more
April 2018 - NGLCC mentorship, Contemporary Relationships Conference
March 2018 - NGLCC Early Bird rates, Facebook workshops
February 2018 - Women's Business Workshop and Philly bound
January 2018- Value of the gay dollar and recent event photos
Chamber Member BUDDY'S Houston to Serve as Polling Location on Election Day
BUDDY'S is the first ever LGBTQ-owned bar to serve as a polling location.
HOUSTON, TX (October 7, 2020) – The Chamber is proud to announce that Chamber Member, BUDDY's Houston, has been selected by Harris County to serve as a polling location on Election Day. BUDDY'S is the first ever LGBTQ-owned bar to serve as a polling location.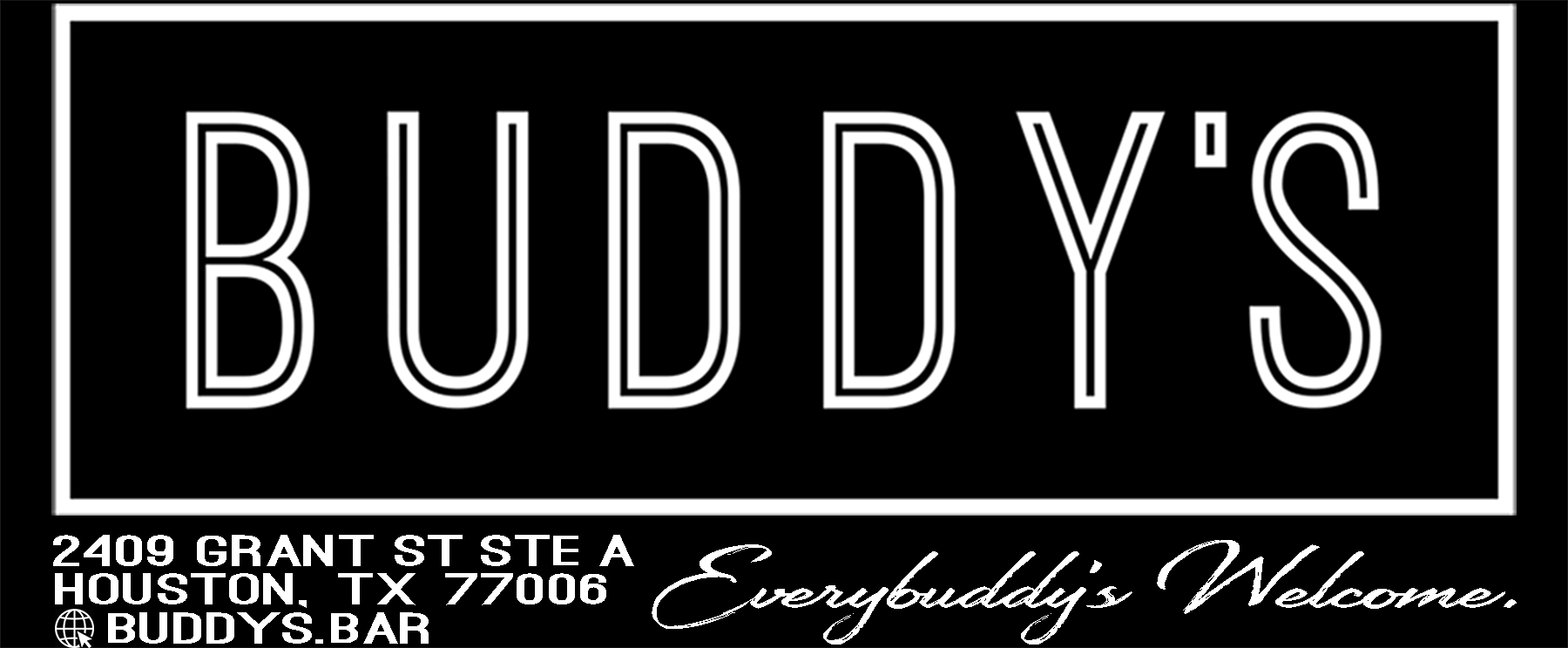 BUDDY'S Houston is located at 2409 Grant St STE A, Houston, TX 77006 in the heart of Montrose. With a tag line, "EveryBUDDY'S Welcome," BUDDY'S owner Christopher Barry is taking this slogan to a whole new level with his commitment to open his business as one of Harris County's Election Day polling locations.
"BUDDY'S is honored to serve as a Harris County polling location on Election Day, said Christopher Barry, Owner of BUDDY'S Houston. "Offering our location as a polling location was an easy decision. It's important that we do our part for the community as well as our civic responsibility." Barry reached out to the Harris County Clerk's Office to offer BUDDY'S as an Election Day location and worked with their staff to ensure all requirements were met.
"I'm excited to have inclusive voting centers like BUDDY's for the November 3 election," said Chris Hollins, Harris County Clerk. "We're planning for historic turnout in Harris County, and we're grateful for local businesses like BUDDY's that will welcome all voters and support the right to vote for every community."
As the Chief Election Officer of the third largest county in the United States, Harris County Clerk Chris Hollins has the responsibility to ensure that each citizen has the opportunity to exercise their right to vote.
"I applaud Harris County Clerk Chris Hollins and his team for ensuring that access to voting is available to all communities and reflects the diversity of Harris County. What a statement about inclusivity from Harris County to include an LGBTQ-owned business as one of the polling locations," said Tammi Wallace, Co-Founder and President & CEO. "We have incredible members who do amazing work in the community and BUDDY's Houston is no exception with this decision to step up to the serve as a voting location."
Election Day is on Tuesday, November 3. Information about voting including poll locations can be found at HarrisVotes.com. Leading up to Election Day, the Chamber will be promoting BUDDY's Houston as a polling location and encouraging the LGBTQ+ community to get out and vote.
Early Voting starts on Tuesday, October 13 and runs through Friday, October 30. The Chamber has partnered with the Texas LGBTQ Chambers of Commerce on Out To Vote Early (www.texaslgbtchambers.com/out-to-vote/).
About the Greater Houston LGBT Chamber of Commerce
Established in February 2016, the Greater Houston LGBT Chamber of Commerce's mission is to accelerate economic opportunity for the lesbian, gay, bisexual, transgender, queer + (LGBTQ+) business community through a strong network of business allies, innovative programs, strategic partnerships and advance policies that foster economic inclusion and equality.
###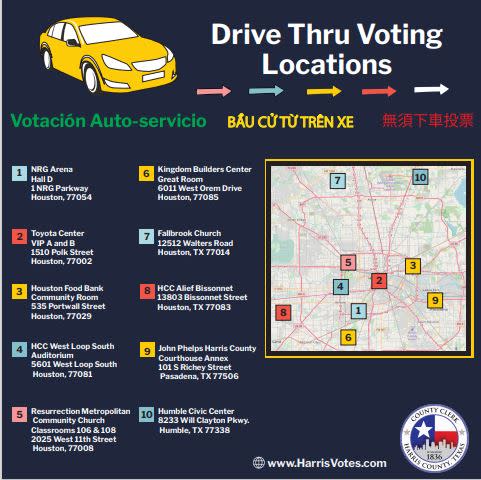 Images
Additional Info
Media Contact : Tammi Wallace (she|her|hers) / 713-301-2266 / tammi.wallace@houstonlgbtchamber.com